Do you have a four-legged friend that you train outdoors in sun, rain and mud? If so, you may be wondering if there are products out there that are easy to clean, hard-wearing, safe and strong.
In this blog post, we will discuss everything you need to know about  BioThane® products for dogs!
We'll cover what BioThane® is, and the benefits of using it. We'll also provide some tips on choosing the right BioThane® product for helping your dog with heelwork and retrieving. So whether you're just curious about BioThane® products or are ready to buy one, this blog post has got you covered!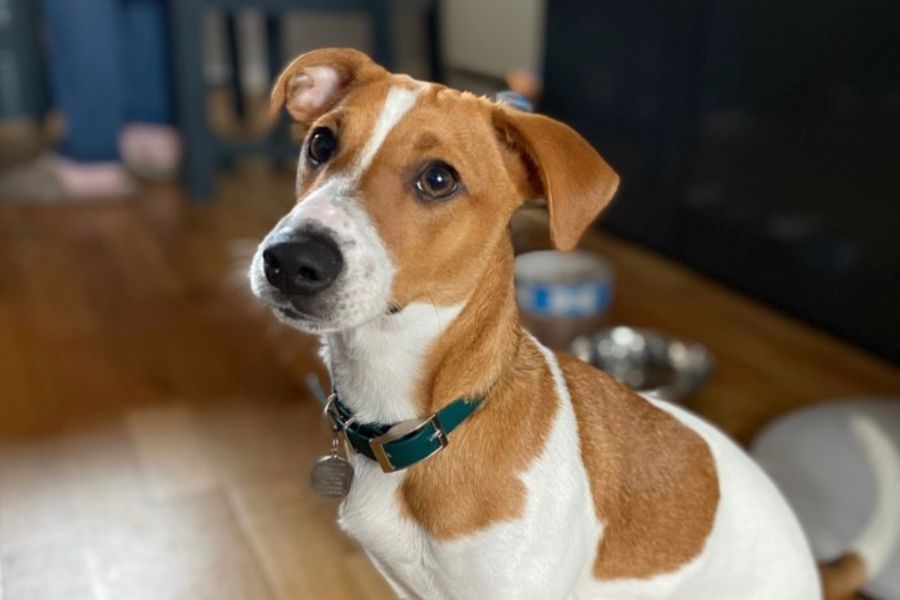 Guest Blog Post By Christy Thompson, Founder of Myrtle and Willow UK
Firstly, let me introduce myself, I am Christy Thompson the founder and owner of Myrtle and Willow UK. We lovingly handcraft BioThane® pet products in Derbyshire.
I am an outdoor girl at heart, having worked in the Outdoor Education sector until 2020 when I decided to follow my dream to work for myself and set up Myrtle and Willow UK. I have owned Springer and Cockers for the past 20 years and our most recent duo are cockers, Willow and Jarvis.
What Is BioThane®?
BioThane® is a unique and amazing product that offers many benefits to those who use it. It is a strong, durable, and flexible material that is perfect for a variety of applications. BioThane® is available in a variety of colours and thicknesses, so it can be customized to meet the needs of any project. It is also comfortable to wear and easy to clean, so it is perfect for those with sensitive skin. In addition, BioThane® is waterproof, so it can be used in any weather condition. Best of all, BioThane® is not vegan certified, however, it is an ethically-responsible choice for those who are looking for an alternative to leather. With so many amazing features, it is no wonder that Biothane is quickly becoming the material of choice for a new generation of eco-conscious consumers.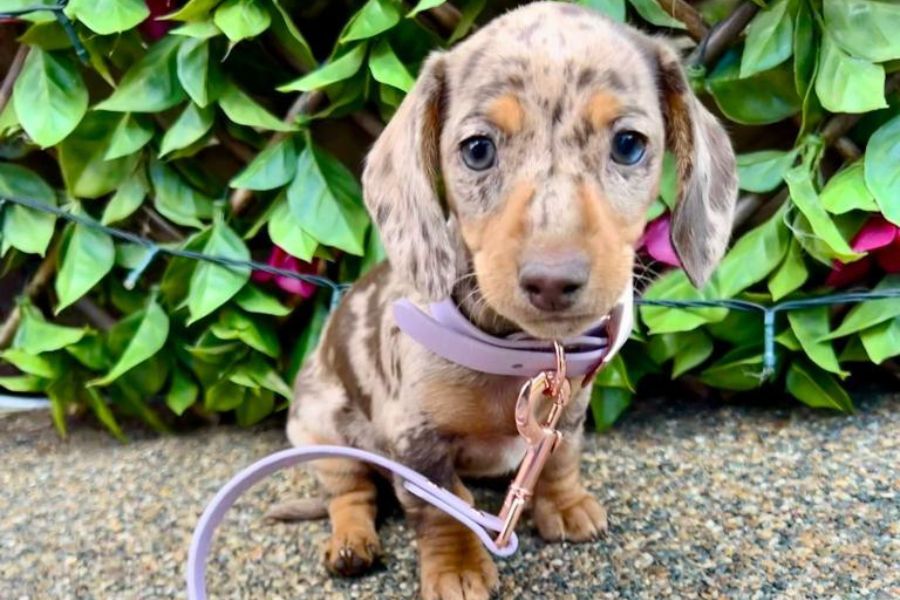 BioThane® and your dog
BioThane® is taking the dog world by storm. It is a durable and pliable synthetic coated webbing which has many practical uses and lends itself to pet products among many other things. Not only is it smooth and pliable like leather it is waterproof, odour and stain resistant, antimicrobial and hypoallergenic – so good for your dog's skin/coat too.
BioThane® is easy to clean.
Anyone who has ever had a dog knows that they can be messy creatures. From muddy paws to slobbery kisses, it seems like there's always something that needs to be cleaned up. Thankfully, BioThane® is an easy-to-clean material that is perfect for dog owners. Made from a PVC-coated fabric, BioThane® is water resistant and can be easily wiped down. It's also flexible and durable, making it ideal for products like leashes, collars, and harnesses. A quick wipe will keep it looking good as new every day!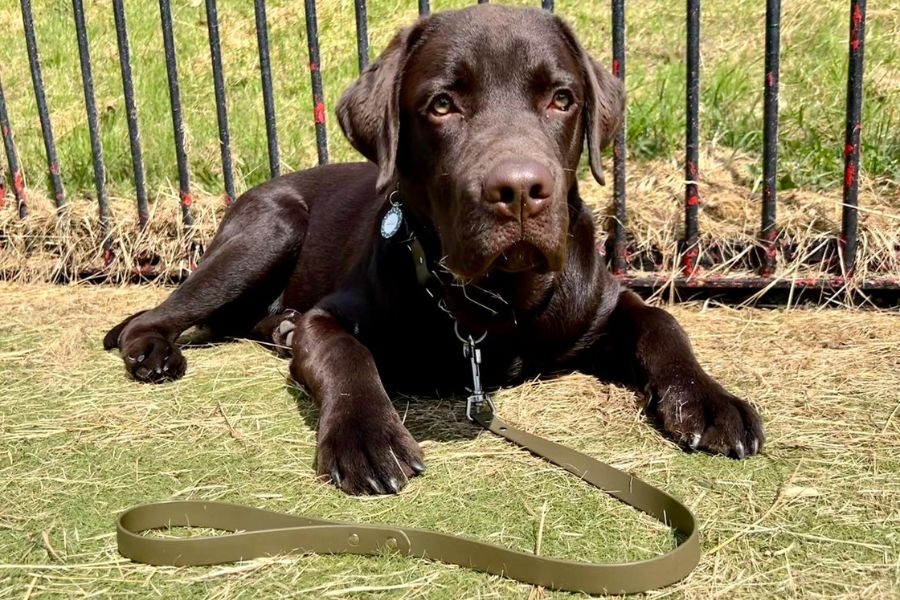 BioThane® is incredibly strong
BioThane® is an extremely strong and durable material that is often used in a variety of applications. It is hard-wearing and is even used to create public services and military gear for dogs.  BioThane®is also resistant to both UV light and water damage, making it an ideal choice for a wide range of applications. You do not have to worry about it snapping as it has a 400kg break limit per inch of thickness, however, like most pet products we recommend checking for damage before use.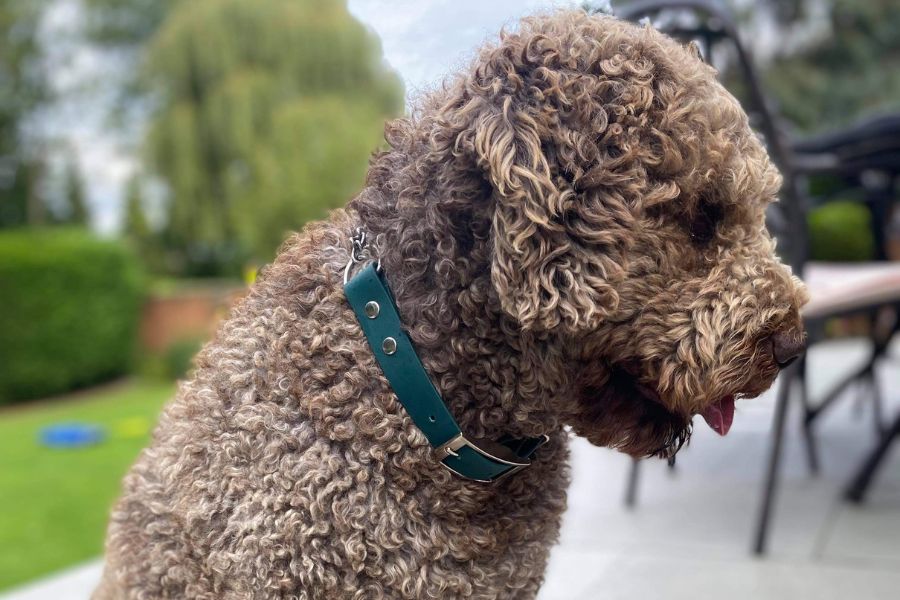 Product Focus: BioThane® Heeling/Retrieving Tabs
Last year I had the pleasure of working with LWDG Guest Expert Becca Dovestone of Dovemoor Gundogs to create some bespoke pieces for her dogs. I enjoy the freedom and creativity that working for myself allows and I love to make custom pieces for our customers. And so the Myrtle and Willow UK Steady/Heeling Tab was born.
Heeling tabs are not a new product, however, our heeling tab is made of BioThane®. They come at a total length of 7" with a d ring and a small but strong trigger clip. I don't have to tell you that generally, the steady/heeling tab is for clipping onto the dog's collar to keep to heel during training, obedience, working in the field and agility activities.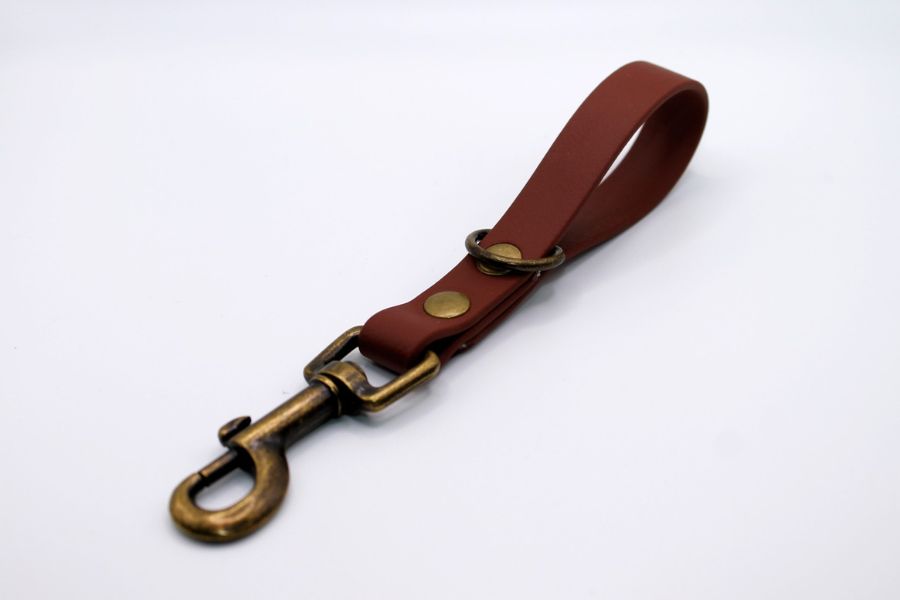 How can a heeling tab be used?
They can be used in a variety of ways and are not limited to:
 A quick hand hold until you want the dog to be released from a lead/ leash.
Transitioning from on to off lead work to hold when dogs come in on retrieves and don't like to let the item go or pop their head down.
As a bridging gap for when we want steadiness on retrieves.
These have fast become one of my top sellers and their use has been adapted for individual dogs. I have been told they have been used as lead extenders, anchor clips in crates/ vehicles and as permanent attachments to harnesses when a coat is worn and it's tricky/ fiddly to clip the lead back onto the harness through the coat.
It is evident that BioThane® is a versatile and durable material that has many practical applications. Not only is it perfect for pet products, but it can also be used in a variety of other ways. With its many benefits, it is no wonder that BioThane® is quickly becoming the material of choice for a new generation of eco-conscious consumers. From leashes and collars to harnesses and heeling tabs, BioThane® is the perfect choice for any pet owner looking for a high-quality, long-lasting product.
if you currently use a product and think BioThane® could make it even better, or want something bespoke made for you and your dog, visit our website at Myrtle & Willow UK
Further Help With Heelwork/Retrieving :
Episode 51: Why your dog needs manners: Behaviour Versus Training
---
Join Our Online Community!
Jump on our email list for free tips and insights delivered to your inbox monthly. No spam - just quick bites of value.