According to a recent study, the number of dog thefts in the United Kingdom has increased by nearly 30% in 2020 compared to the burglary crime rate! This is alarming news, especially since so many dogs are stolen for illegal purposes such as fighting or breeding. Thankfully, there is a new solution that is helping to crack down on these crimes: Dog DNA Profiling.
In this blog post, we will discuss with David Hartshorne, Managing Director of DNA Protected, part of Cellmark Forensic Services, how DNA forensics is being used to decrease dog theft and keep our four-legged friends safe!
Podcast Edition: 61. Dog Theft on the Rise: How DNA Forensics is Helping to Solve the Problem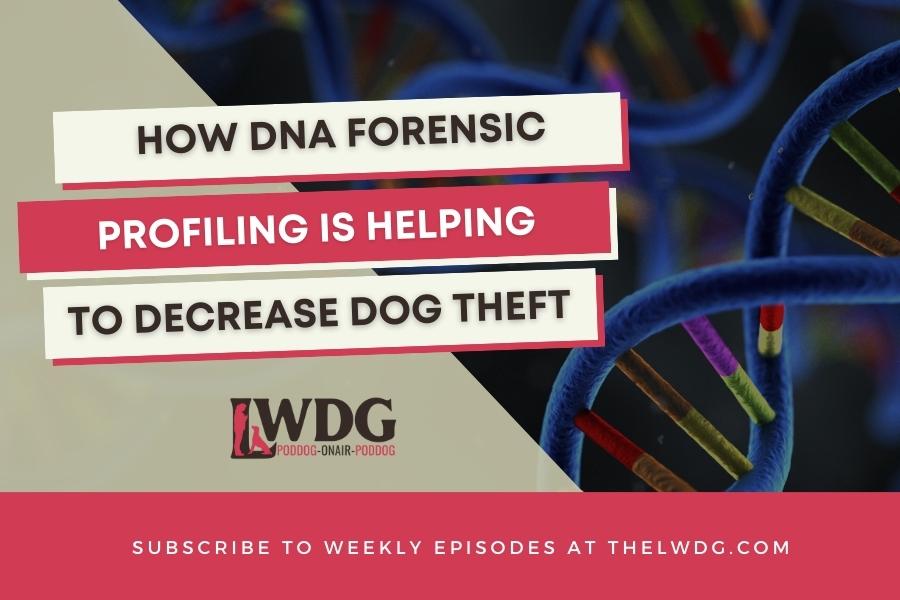 How DNA Forensics is Helping to Decrease Dog Theft
DNA forensics is a new tool that is being used to crack down on dog theft. By taking a sample of your dog's DNA and registering it with a forensic database, you can help the police identify stolen dogs and return them to their rightful owners. In addition, DNA forensics can also be used to track down the people who are responsible for stealing dogs in the first place.
There are many reasons why DNA forensics is such an effective tool for combating dog theft.
First of all, DNA cannot be changed or altered, it is unique to that pet. This means that even if a thief tries to dye or cut your dog's fur, the DNA sample will still be able to identify your pet.
Secondly, DNA databases are constantly expanding and improving. This means that even if your dog's DNA isn't currently registered, there's a good chance that it will be in the near future.
Lastly, and perhaps most importantly, using DNA forensics is one of the best ways to ensure that your stolen dog is returned to you safely. All too often, stolen dogs end up in abusive situations or are sold for breeding. By registering your dog's DNA Profile its offspring can even be traced back to your dog and you. Breeders can use this new database to register all their pups before they leave for their forever homes.
How Cellmark created the Dog Profiling Database
Gloucester Police were the first to implement a new dog DNA marker system to help solve criminal cases following an increase in pet theft during the pandemic.
They reached out to Cellmark, leaders in criminal forensics, to see if they could help.
"We want owners who have lost their animals or whose pets are missing," said Chief Inspector Emma Macdonald, "to be able to get them back quicker with this technology." More on this story can be found here
Proving Ownership Using Dog DNA Profiling
In a world where dog theft is sadly on the rise, DNA profiling can offer helpful support in proving ownership should our pets go missing. By registering their unique genetic code, we are able to provide expert knowledge and wisdom in the event that our dogs are stolen and illegally sold to another person.
It's also a preventative measure – if potential thieves know the dog can be easily traced back to its rightful owner, they may think twice about committing the crime in the first place.
DNA profiling is just one way we can show our support for our beloved companions and do what's best for them.
As a company that has been providing forensic DNA profiling services for over 30 years, Cellmark understands the important role that DNA evidence can play in criminal investigations.
They also recognise the deep love and care that owners have for their animals and the traumatic impact that a crime against an animal can have on them.
That is why Cellmark created the database to use its expertise and wisdom in assisting with such cases with their scientific profiling.
Cellmark own and bring their expertise to  DNAProtected
Final Thoughts on Dog DNA Profiling …
If you own a dog, it's important to be aware of the rising problem of dog theft and how you can protect your pet. One way to do this is by taking advantage of Dog DNA profiling.
By registering your dog's DNA with a forensic database, you can help the police identify stolen dogs and return them to their rightful owners.
In addition, using DNA forensics as another layer of security, alongside microchipping,  is one of the best ways to ensure that your stolen dog is returned to you safely. So don't wait—if you haven't already done so, get your dog's DNA tested today!
Further Reading
Protect Your Gundog This Gundog Theft Awareness Week
Top Tips For Training A Reliable Recall
---
Join Our Online Community!
Jump on our email list for free tips and insights delivered to your inbox monthly. No spam - just quick bites of value.