Looking for a way to get into the holiday Christmas spirit and still enjoy dog training? Check out our LWDG 24 Days of Xmas event! We'll have something new and exciting each day, so make sure to keep an eye on us. From 1/12-24/12, we'll be spreading cheer in all sorts of ways. We can't wait to celebrate with you!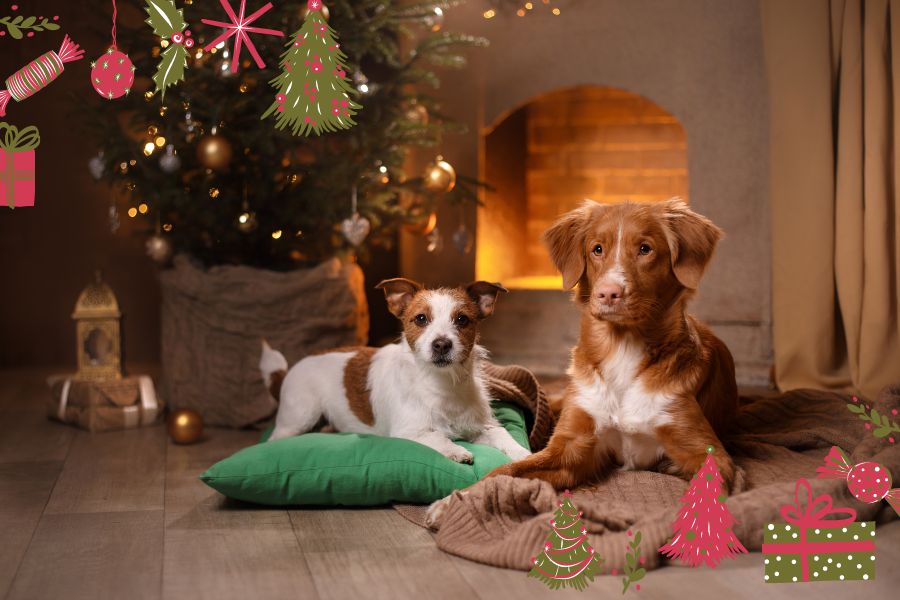 Daily LWDG Advent Christmas Challenges
Enjoy these daily LWDG advent calendar challenges created by LWDG Group Expert Emma Stevens @CunningshotDogTraining
Each day up until Christmas Eve the LWDG will release a daily challenge Xmas Challenge on our website, and on our Facebook and Instagram social media accounts. Each day we will post a short exercise that you can do at home or locally. These are perfect for dark nights when you have a few mins spare at lunch, or while the kettle is boiling.
Rules are… There are no rules, no minimum baseline training level, anyone can get involved, and all challenges can be adapted to your dog, age, ability, previous training, behaviour etc.
To take part in the challenge video yourself doing the challenge, share it on as many platforms as you can and tag us using the hashtag #lwdgxmas24.
Keeping Training Consistent Throughout Christmas Holidays
The run-up to Christmas is a busy time for everyone, and it can be easy to let things slip. However, if you're in the middle of training your dog, it's important to stay consistent with their lessons. Dogs learn best through repetition, so if you stop training them for a few weeks, they'll quickly forget what they've learned. This can lead to behaviour problems down the line.
On the other hand, if you stick to a regular training regime, your dog will be less stressed and more likely to behave well. So, if you want to enjoy a peaceful Christmas period, make sure you're consistent with your dog's training in the run-up to the big day.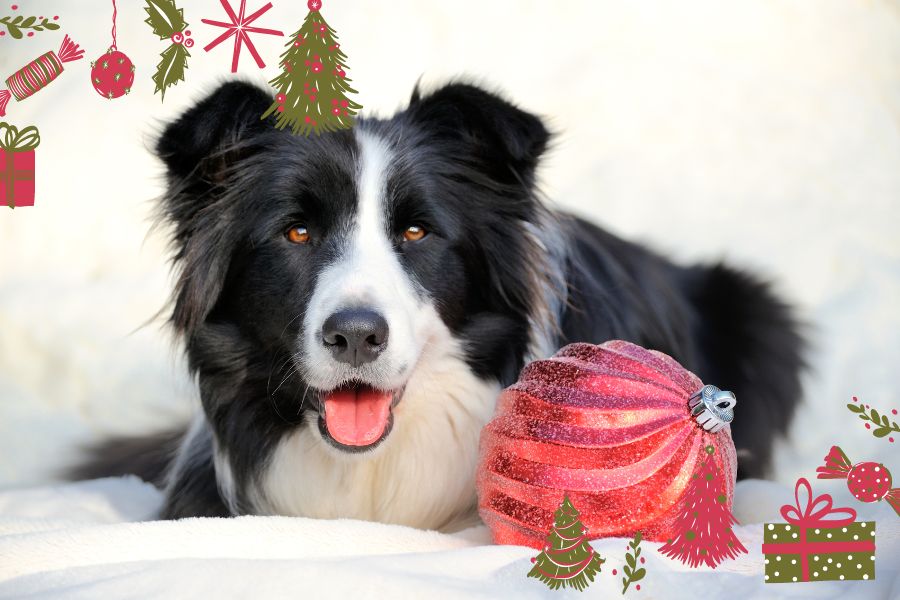 Bonus Christmas Prize Draw
As an extra bonus, people who complete all 24 days and use the final day hashtag ( which will be given on the 24th) will also have their name added to a prize draw to win the LWDG Padded Soft Shell Jacket worth £60! We will be checking your posts on your social media for the other 23 challenges posted on days 1-23 too, so make sure to follow us or add us as friends so we can see them on your social media platform.
In order to enter the contest and be eligible for the prize draw, you must complete all 24 days of challenges. So make sure to keep an eye on our website, Facebook, and Instagram accounts for the latest challenge! These daily challenges are a great way to get into the holiday spirit while also keeping your dog's training consistent. We can't wait to see all of your submissions! And if you are popping doors make sure to keep warm,
Walking your dog in the winter: How to stay warm and safe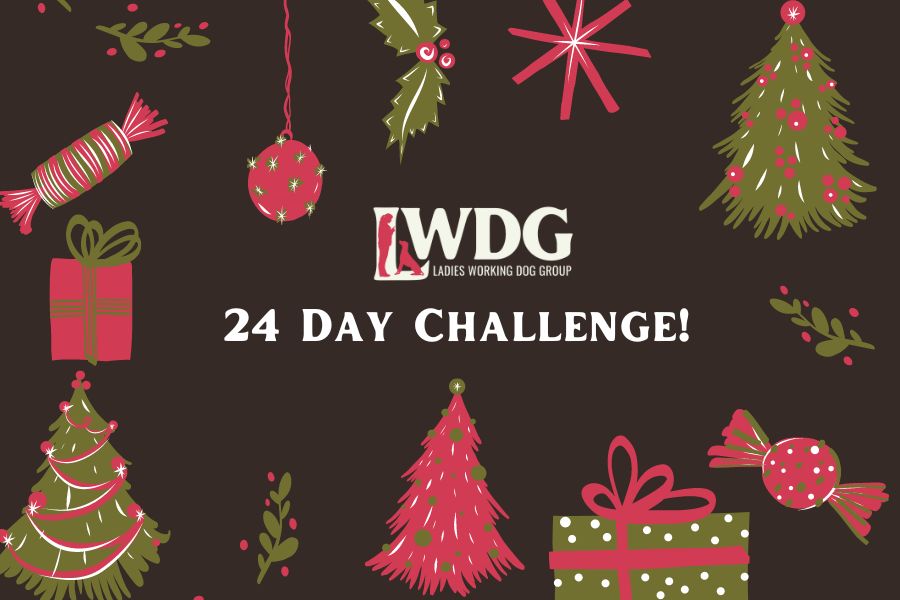 24-Day Christmas Challenges
December 1st – Sit Challenge – Sit Duration Of 1min In A New Location
December 2nd – Recall – Recall From A Distraction (Long Line Can Be Used)
December 3rd – Xmas Heel Challenge – Heel Your Dog on or off lead around a Christmas decoration
December 4th – Settle – Settle On A Bed, Car Crate Or House Crate For 2 mins
December 5th – Retrieve – Seen Retrieve In A New Location
December 6th – Hunting – Hunt For A Retrieve, Ball Or Toy In An Interesting Environment (Food Can Be Used If Dog Doesn't Retrieve)
December 7th – Sit Challenge – Sit Duration For 2 Mins In A New Location
December 8th – Heelwork – Heel Around Your House For The Length Of Time It Takes To Boil A Kettle
December 9th – Transition Challenge – Be Able To Move Your Dog From Sit To Stand To Down
December 10th – Send Away To Bed – Send Your Dog To Their Bed From A Distance You Are Comfortable For A Duration Of 2 Mins 
December 11th – Xmas Photo – Take A Fun Xmas Photo In A Static Position
December 12th – Hold Challenge – Have Your Dog Hold an Xmas Stocking
December 13th – Middle – Teach Your Dog Middle Position (If They Already Know It Then Try Middle Walking)
December 14th – Ready Steady Stop Game – Play In A Low-Stimulating Environment
December 15th – Door Manners – Practice Door Manners In The House, Garden, Car, Out On Walks
December 16th -Heelwork Memory Retrieve – Place Dummy Or Food Bowl (If Not Retrieving) On The Floor, Heel Your Dog Away To A Distance You're Comfortable And Then Send For The Dummy Or Food
December 17th – Slalom – Heelwork Slalom Through Placed Or Natural Obstacles
December 18th -Temptation Alley – create a channel of Christmas items and recall your dog through them without them picking anything up.
December 19th – Do Nothing – Take Your Dog To A Busy Place And Do Nothing For As Long As Your Dog Can Manage, Stop Before They Get Overstimulated, Bored Or Over Threshold.
December 20th – Left & Right – Set Up A Left And Right Retrieve Or Food Bowl Exercises For Your Dog (Set Up One At A Time If Teaching)
December 21st – Have A Do Nothing Day – With Christmas Upon Us See How Your Dog Copes With A Day Off, No Walks, No Training, Just Settling Before The Christmas Rush
December 22nd -Steadiness – Place wrapped presents all around your dog
December 23rd – Sit, Recall, Heelwork Pick A Mix – Practice All Obedience Your Dog Can Do Well In The Time It Takes To Boil The Kettle
December 24th – Wrapping – Pop Your Dog On Their Bed, Crate (With Door Open) For The Length Of Time It Takes To Wrap A Christmas Present.
---
Join Our Online Community!
Jump on our email list for free tips and insights delivered to your inbox monthly. No spam - just quick bites of value.