Happy Hotdogs recently sent 6 ladies from The Ladies Working Dog Group their Light Pinewood Training Vest for us to put them through their paces and see if they are worth the money and genuinely good for training. After being tested in the field, it turns out we think they're pretty awesome.
Review Written By Jemma Martin, from Whistle and Wag Dog Training
Earlier this year I was lucky enough to be asked to review the Pinewood light Pro training vest by Happy Hotdogs in conjunction with The Ladies Working Dog Group.
I have tried numerous training vests in the past for my gundog training and they are always too bulky or make me too hot or don't have adequate space.
That is until I tried the Pinewood 'New' Light pro training vest!
Pockets galore in the Pinewood!
The first thing that needs to be noted is that this vest has no lack of pockets!
There is a spacious rear pocket that easily fits all the dummies I need for training and some tennis balls. I usually carry around 6 dummies but it would take more. The rear pocket has magnets that lightly close the pocket shut which helps to keep your dummies in place. This is a fabulous idea as I have had other similar size vests previously that dummies regularly fall out of which is a real pain.
As well as the large rear pocket, there are two dummy-sized elasticated pockets which would accommodate a further two dummies or water bottles for you and your dog.
Moving to the front there are two decent-sized outer pockets, great for treats or balls, or whatever you fancy really. The flaps of these also have magnets that keep them tucked in if required to allow easy access to the pocket.
There is a high zipped front pocket on the left chest which easily took my phone and kept it safe.
This is accompanied by two chest pockets that seal with a popper, which again would take a phone or keys or anything else small you may need to keep to hand.
The last thing on the front is the little elasticated whistle pocket, great to slide your whistle in when not in use so you do not have any 'dipping' accidents when clearing up after your dog. (I've been there, it's not pleasant trust me)
You are probably thinking wow that's a lot of pockets, but it doesn't stop there! there are further two decent-sized zipped pockets inside. One has the rather special feature of a small opening that allows you to dispense poo bags from! Ingenious! It works fabulously with the rolls of poo bags you can purchase from most pet stores. The pocket the other side is a plain zipped pocket, but again great for anything you need to keep secure. Maybe a snack pocket with energy bars for you and your dog? Who knows, but whatever you want to take with you it will fit in this awesome vest!
Other features of the Pinewood
So apart from the more than ample pocket space what else can I say?
One feature I really like is it is made of hardwearing but super lightweight material, with a mesh section across the back and under the arms. This kept me cool even on warmer days where in my old vests I would have been seriously overheating.
MORE pockets! I forgot to mention 4 more pockets, yes 4! I wouldn't suggest that these are pockets to keep things in but more for warming your hands. There are two high on your chest and two lower behind the front larger pockets. These are a great place to pop your hands when walking or training. I have a tendency to overuse my hands when training so they are great for me to pop my hands away as a conscious thing to get rid of them. Equally on a cooler Autumn day, it would be great to pop a couple of hand warmers in to warm your hands.
The front of the vest also has a small loop next to the left zipped chest pocket, this is great to attach a whistle on a cord to. This ensures you always have a whistle to hand with your vest and no panic that you have forgotten it.
Colours
Finally, this vest is available in 4 different colours.
Moss, Plum, Brown/Olive, Black
I opted for the brown/olive as wanted a colour I could wear when out working the dogs, but the other colours are great.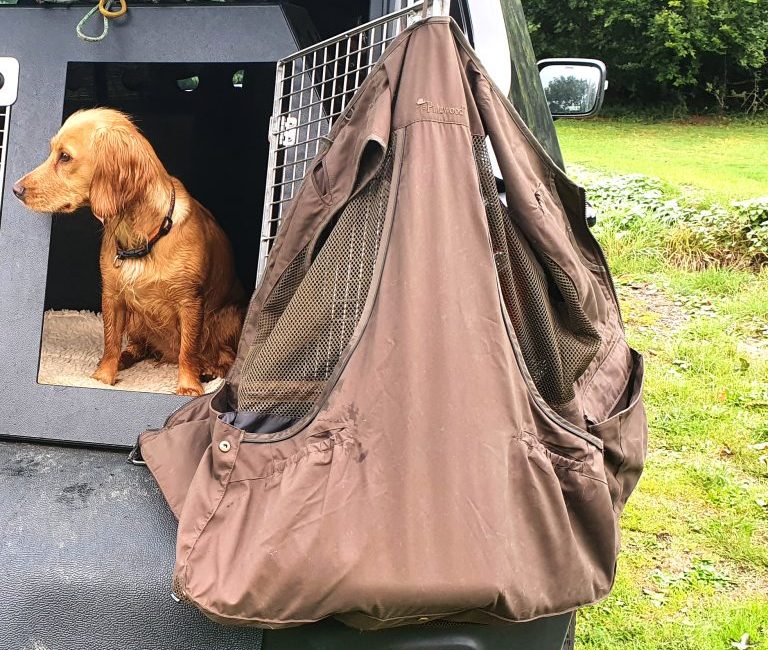 In Summary
I'm not sure I have anything negative to say about this vest! It's lightweight, has tonnes of pockets, nifty little features like the poo bag dispenser and magnets and has a flattering shape.
They are currently £85 from Happy Hotdogs which offers excellent customer service with quick delivery. Go get yours today! Check out our other post for a fab discount offer, and Society Members can check out the Member Calendar ( July 1st) for an even bigger offer!
What do our other reviewers think:
Emma Stevens – Cunningshot Dog Training
The pinewood vest for me is fantastic, smart and useful. The sizing was spot on and I have used it for a multitude of reasons. Can't wait to use it in the shooting season as well.
Charlotte Perrott- Pet Business Support
This vest has SOOO many pockets! It is absolutely perfect for everyone, however, I find it useful with my puppy. As we all know, puppies' attention spans are a little (a lot!) shorter than adult dogs, so this vest allows me to have a variety of training equipment out with me to keep training interesting, instead of having to go back and forth to the car. I love the purple colour, it is a little more feminine than a normal vest as it fits to your shape. The vest is a great material, I seriously appreciated the little ventilation holes during the summer. The back pocket is huge- it can even fit a cavapoo!
The vest is very well put together, it allows a coat or similar underneath it during these winter months, there isn't much that this vest can't do.
Joanne Perrott- The Ladies Working Dog Group
I absolutely ADORE my Pinewood Vest- from the endless pocket to the secret poo bag compartment, it ticks all the boxes for training, and even just going for a walk with the dogs. When I first had the vest, I looked at it as though it was another piece of equipment I would rotate through, but it is a staple within my daily life.
I like the fact the pockets are big too, not just flimsy little ones that won't fit a tennis ball. The phone compartment is very handy, and as Jemma mentioned- I love the little whistle pocket! I would describe it as an all-rounder, and even though it is a 'light' training vest, it is very useful for the winter season too.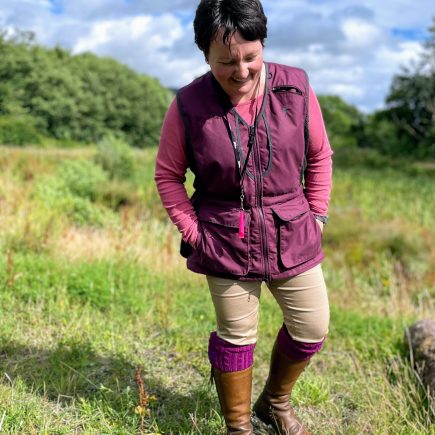 Samantha Thorneycroft- Taylor – Languedoc Gundogs
After eagerly awaiting the arrival of my Pinewood Training Vest, I was super excited to put it through its paces! It certainly did not disappoint with multiple front pockets, a spacious dummy compartment, and magnetic closures to decrease/increase the dummy compartment size, and it looks and feels great too.
Its sizing is spot on and it has a very smart appearance. The Pinewood Vest very quickly became my go-to equipment carrier especially as the weather improved and the mesh back allowed airflow whilst training in warmer weather.
I have used the vest for full days training multiple dogs/clients, and for more relaxed dog walks too – it's been great for every use I've given it so far!
So there you have it, 6 different dog handlers, 6 very positive reviews for the training vest.
If you would like to get yours, please click the button below. If you have already purchased one, please feel free to leave your review in the comments! 
---
Join Our Online Community!
Jump on our email list for free tips and insights delivered to your inbox monthly. No spam - just quick bites of value.