As part of our community, you may be familiar with place board training. In this blog post, LWDG Group Expert Emma Stevens, shares how placeboard training has helped her mindset during a really difficult time in her life.
While going through the late stages of her pregnancy in 2021 and early motherhood, Emma's mental health deteriorated, and she struggled with feelings of guilt and inadequacy as she couldn't provide her dogs with the physical and mental stimulation they needed. Using placeboards, a tool her dogs already understood, Emma was able to escape the discomfort and pain and get back to training her dogs. Emma now uses placeboard training not just as a teaching tool but also as a mindset tool for building owner confidence when training a dog.
Written by Emma Stevens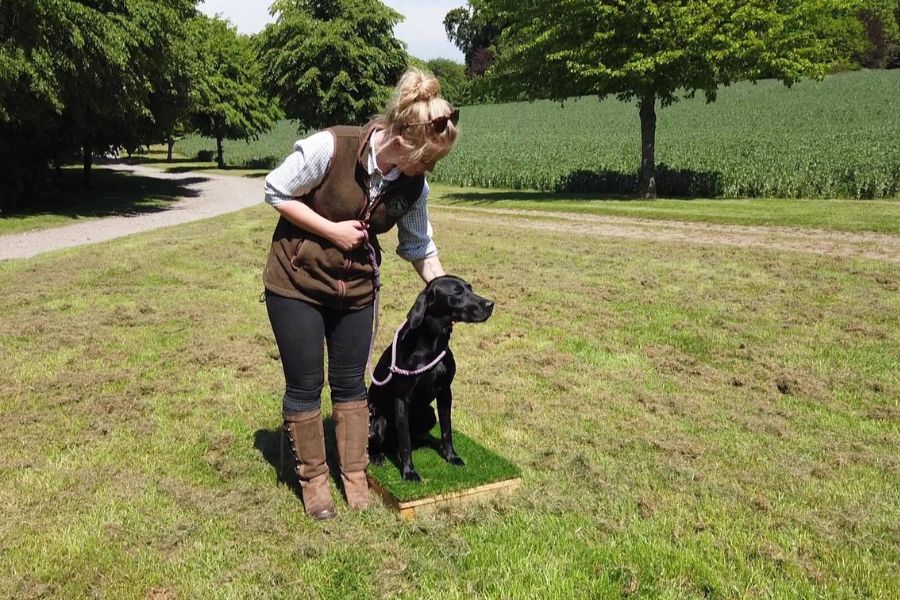 The Importance of Placeboards in Dog Training
I have always used placeboards for my gundog training, both my own and clients. I found benefit in the perfection, consistency and aid they give to owners which in turn helps me to teach. I find it fascinating that you can visibly see a dog understand and settle into training and progress so quickly with basic training with little commands by just the use of a board. I researched more into placeboards and their uses and truly thought I understand their limitations and capabilities. Little did I know how important they would become to me in future years to come and how much more they would teach me.
Coping with Physical and Mental Limitations
In the late stages of my pregnancy in the summer of 2021 up until just recently my mental health deteriorated, initially I didn't cope with the limitations to my body and energy being pregnant dealt me and through the birth and then early motherhood the physical limitations, frustration, and extra things to think about having a newborn came with. Having never been someone who has struggled with mental health it was a huge blow to my confidence in my own training abilities.
With physically being the size of a whale just before the shooting season I couldn't give my own dogs the physical and mental stimulation they needed, which massively affected me. I felt hugely guilty that I was letting my dogs down and letting myself down and then my newborn baby down with every decision I made. I went deep down the rabbit hole of not feeling good enough, feeling external pressures, that I now know weren't even there, and not knowing who I was any more as without the dogs, the training, and the ability I held the dogs accountable to, who was I? This is where placeboards came in….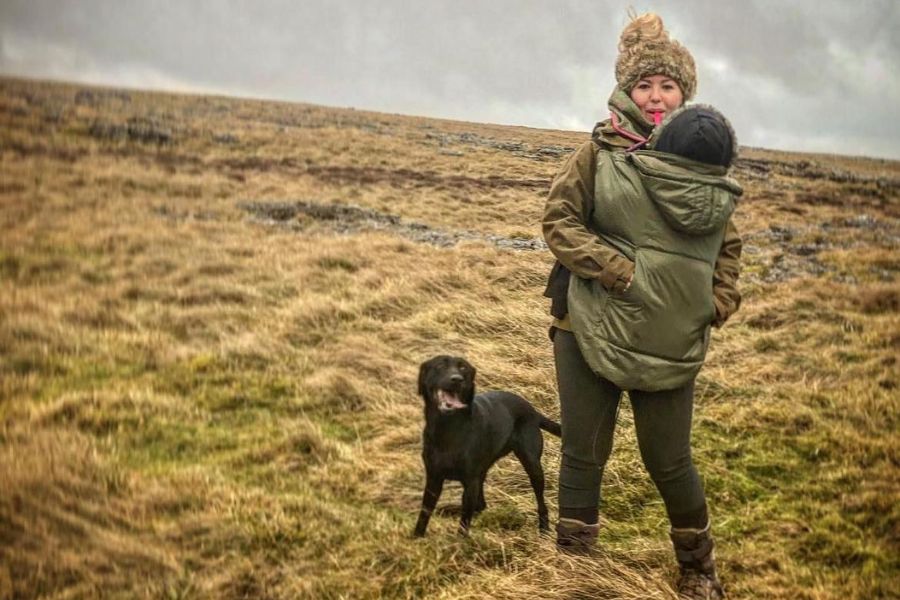 Placeboards as a Tool for Transformation
I had previously spent a lot of time perfecting the art of teaching placeboard training to clients and using it on the journey of the pup to adult with my own dogs. I felt that they were safe, consistent, and reliable. This is what I needed in this uncertain time in my life. Working with placeboards allowed me to escape the discomfort and pain in the late stages of my pregnancy and in the early stage of my journey into motherhood and get back out and train my dogs.
Using placeboards was using a tool that my dogs already understood and that they respected and did well on. It completely transformed my sessions from a battle and turned frustration into a joy to get back out and train. I could sit down and use them if I was struggling, have Harry in a pram nearby as we didn't need to move much, and baby carry for a bit without hurting and still training. My mental health started to improve as well as my confidence in teaching again as the dogs did better and better on the placeboards.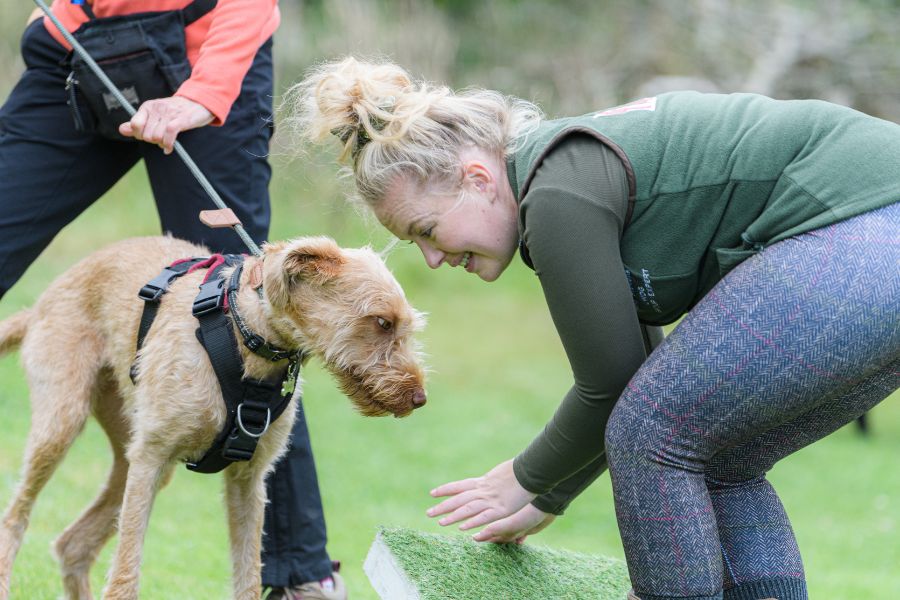 Finding Confidence in Training Again
The placeboards gave me and the dogs the structure to learn again – or relearn should I say, how we would navigate the changes that our new 2-legged addition would bring. Using the placeboards we tackled the changes to our new life, their steadiness and self-control improved while I learnt the practical side of motherhood… how to get a pram out of a car and put it together, how to get Harry into a baby carrier without dropping him and the dreaded car seat contraption.
It allowed me to reteach retrieve delivery positions as I couldn't have the traditional front delivery when pregnant or when carrying a newborn in a front carrier. It improved our group heelwork to be at a slower waddle to be then transitioned into walking with a pram and it gave us easy goals to work towards again. Amongst all of this, I was able to find myself again, albeit a new me, but parts of me I had lost when my head wasn't in the right place to train.
Placeboards as a Mindset Tool
Placeboard training re-lit a fire inside me to train with clear achievable goals at a time when I needed to be achieving and succeeding for my own mental health. I could group train my own dogs and as my confidence grew to get back out with my own dogs with Harry with me, I was also able to think about returning to work. The more times we had successful trips out the more I was able to get up and do it.
Now placeboards for me have become much more than just a training tool but a mindset tool when owners now struggle. Now I not only use them for teaching new behaviours but also for teaching owners, direction, progression and building their confidence with their dogs training. Once a dog is conditioned to a board and able to do a few positions such as heel and recall, and they can target these then the list is endless as to their uses. They can be the confidence an owner needs to build the training when they are away from a trainer and the go-to when a step back is needed to reproof training without feeling like you have failed.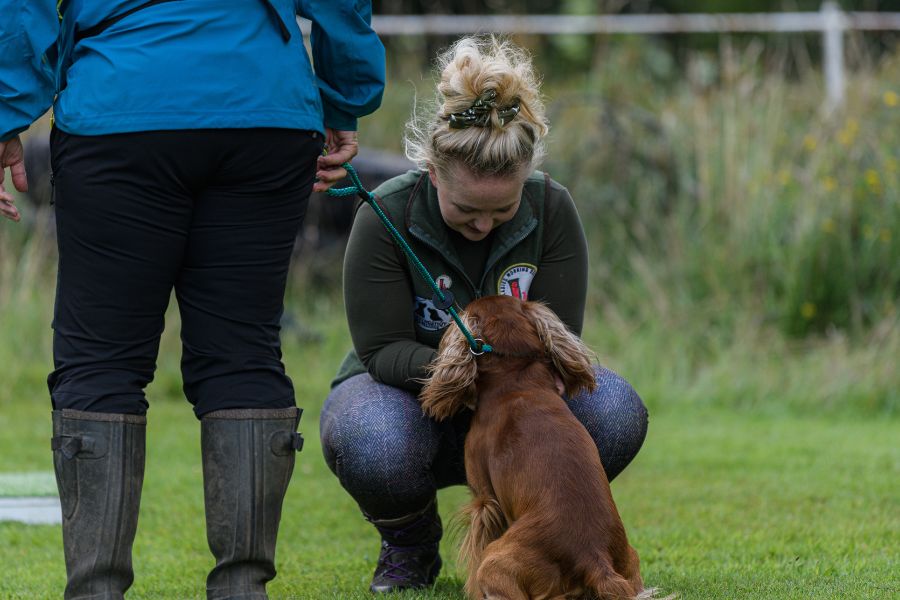 The Benefits of Placeboard Training for Dog Owners
For anyone struggling with their training, understanding progression, confidence or how to develop training I would 100% recommend placeboard training. The methods used in placeboard training offer the dog and owner consistency and clarity in their training, as well as have positive effects on the bond and relationship. They give you the opportunity to visibly see the dog learn and succeed, as well as the times they struggle which can then be easily corrected by making it easier again and then building back up to more difficult exercises.
This can be so refreshing for an owner's mindset when they feel stuck in a rut training. Placeboard training is not just a teaching tool, it is a mindset tool for building owner confidence when training a dog.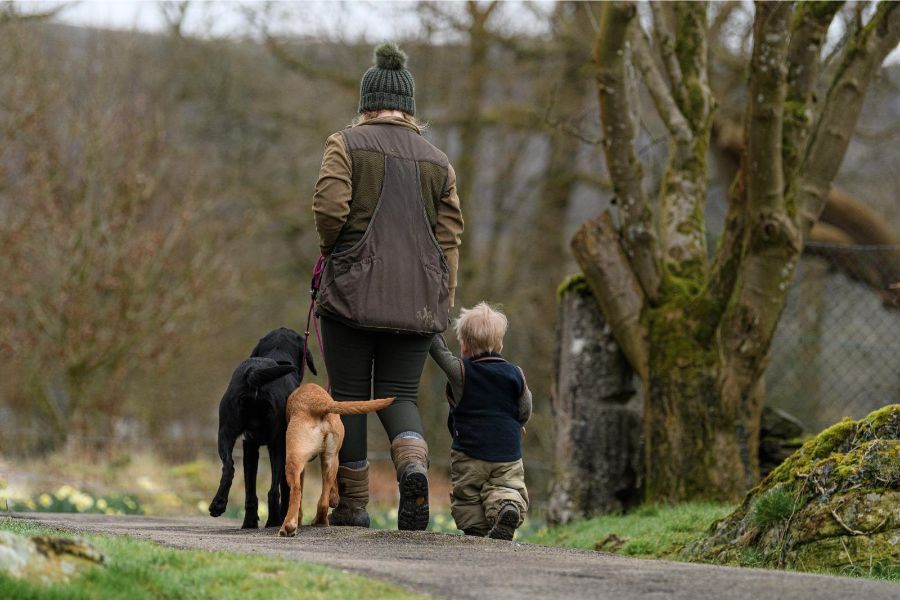 Further Learning
The benefits of training a gundog with a place board
Society Member Course – Using A Place Board With A Working Dog
Society Members please check your events section for Palceboard Training Days with Emma Stevens
---
Join Our Online Community!
Jump on our email list for free tips and insights delivered to your inbox monthly. No spam - just quick bites of value.