Welcome to my interview with Paula Lester, Features Editor of Country Life Magazine and an inspiration to many! Paula has pursued her passion for the country as a true vocation and is committed to inspiring other women through her tireless dedication in the field. Her journey shows us that it's never impossible to build a career into something we enjoy – if you're determined enough, hard work will lead you down the road less travelled. In this exclusive interview, I sit down with Paula to get an inside look at what she does best; from gathering key stories from experts across the industry to working closely with the picture desk, designers and sub-editors to bring us insightful articles about outdoor life – join me now as we discover how one woman's commitment can create lasting change. Prepare yourself for a riveting insight into an editor's unique world!
Podcast Edition: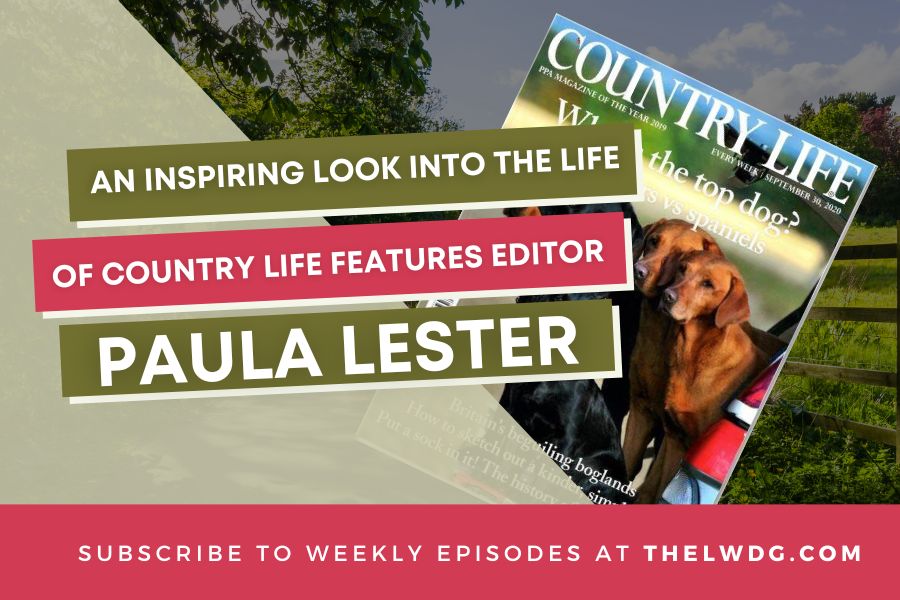 Introduction To This Weeks Podcast:
Paula Lester is the Features Editor for Country Life Magazine. In this role, she oversees the magazine's editorial content, including the selection and placement of stories. Paula has a deep knowledge of the country's lifestyle, and her work reflects her passion for preserving traditional values and promoting rural communities.
Paula talks passionately in this podcast about how pursuing your passions in life is incredibly important. It gives you a sense of purpose, provides an outlet for creativity, and allows you to make valuable connections with people who share similar interests.
When we pursue our passions, no matter how big or small they may be, it can open us up to new opportunities and experiences that help us grow as individuals. It can also give us a sense of accomplishment and fulfilment that can be difficult to find elsewhere. So, no matter what your passions may be, it's important to nurture them and make the most out of the opportunities they provide.
Working at Country Life
Paula begins the process of putting together an issue of Country Life Magazine by organising and sorting through potential content. She looks for both new and timeless stories that will interest her readers. Once she has a good idea of what she wants to include, Paula starts to put together with the rest of the team the layout of the weekly issue.
Together they decide on the order of the articles and determine how much space each one will take up. Next, Paula works on the headlines. She takes care to make sure that they are well-written and interesting to read.
After that, it's time for editing. The team makes sure that all of the articles are properly edited and fact-checked before publication. Finally, they design the cover and put everything together into a finished product, and then it all begins again for the following week.
Paula has had the fantastic honour of meeting some of the British monarchy's most iconic figures and dignitaries; from the Queen to Prime Minister David Cameron. Paula finds this part of her job particularly wonderful. Paula's role allows her to learn about different people's beliefs and viewpoints within our countryside. She also has had the opportunity to visit some amazing places and events within the UK – from natural landscapes to managed estates – that are all featured in Country Life
Making a journalist career in the countryside
If you're aspiring to make a career in the countryside writing industry, there are a few pieces of advice Paula can offer. Firstly, it's important to remember that this is a competitive field – you'll need to be dedicated to your craft and put in the hard work if you want to succeed.
Secondly, it's also important to have a strong understanding of the countryside and its many complexities. This industry is all about telling the stories of rural life, so it's crucial that you have a good grasp of the topic. Finally, it never hurts to have an outgoing personality and be able to network with other professionals in the industry.
Final Thoughts
It can be so easy to get wrapped up in the day-to-day obligations of life and lose sight of what we really want to do. Paula Lester is a perfect example of someone who followed her dreams, no matter how difficult they may have seemed at times.
It can be difficult to take the plunge and follow our dreams, but Paula's story is a great reminder that it's never too late to achieve our goals. Whatever your dream may be, don't let anyone tell you that you can't do it. Follow your heart and you'll be amazed at what you can accomplish.
Country Life Magazine Offer
Paula has kindly offered our listeners and readers six offers of the magazine for £6.

Thank you for reading, and we hope you have enjoyed learning about Paula Lester's inspiring story! We wish her all the best of luck in her future endeavours.
LWDG POD DOG Podcast : LWDG POD DOG
---
Join Our Online Community!
Jump on our email list for free tips and insights delivered to your inbox monthly. No spam - just quick bites of value.