There's something about the word 'husky' that just conjures up images of winter wonderlands, dogsledding and all things Arctic. This week on LWDG PODDOG, we chat with Clair Rees from Wild Spirit Dog Sledding and Bushcraft about her huskies and what it's like living and working with them in Sweden's stunning wilderness.
Podcast Episode: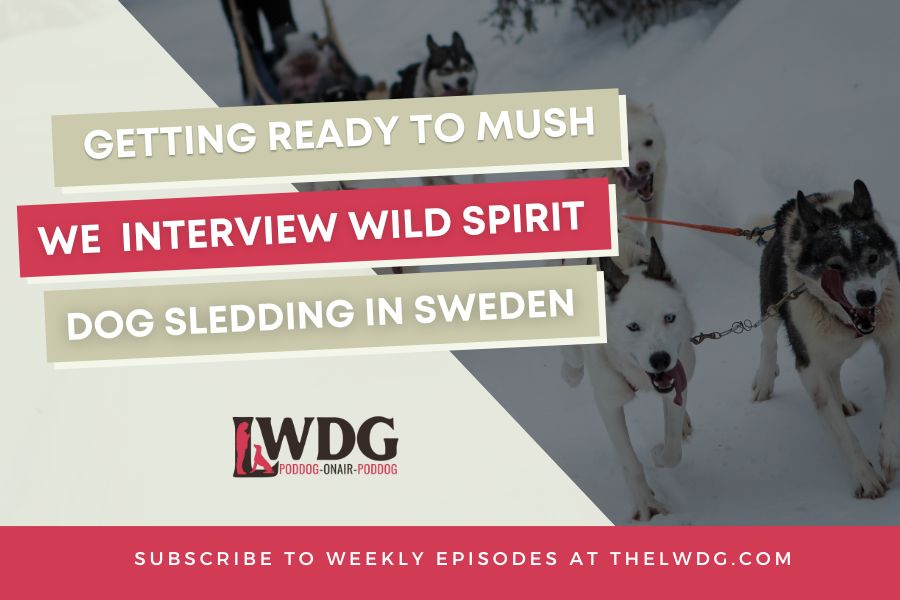 Wild Spirit Dog Sledding and Bushcraft offers exciting Sled Dog Tours and Stoneage Bushcraft Workshops in Northern Sweden. Based 30 minutes from Åre, their tours and workshops are offered against the stunning wilderness backdrop of Ottsjö, giving you an authentic taste of Sweden's Arctic Wilderness. Owners Clair and Richard have 63 huskies who they work and live alongside.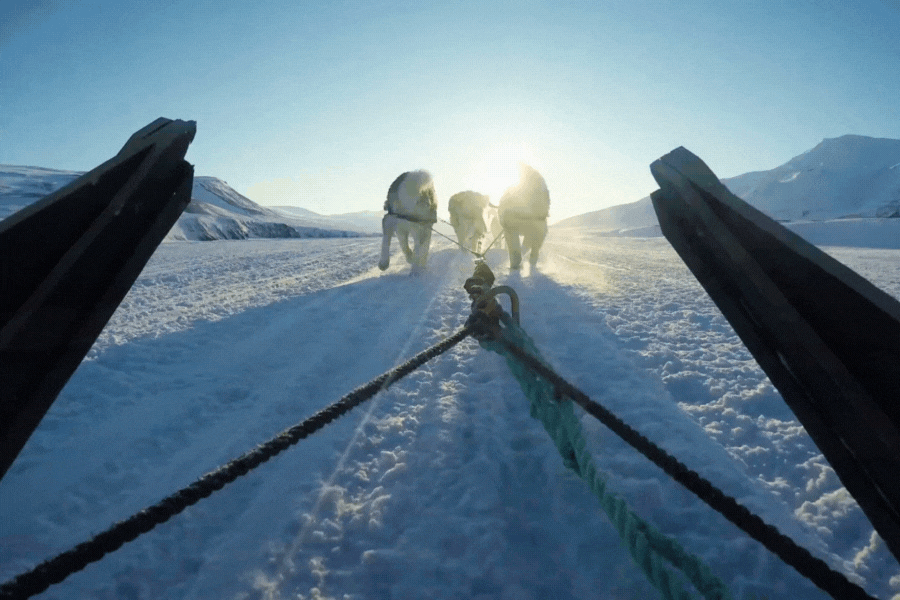 What you need to know about Huskies
Huskies are hardworking, helpful dogs known for their intelligence and endurance. Often used as sled dogs, they have the strength and stamina to thrive in cold climates. However, Huskies also make loving, supportive companions. They crave attention from their owners and enjoy being a part of the family.
Though they can be stubborn and independent, with proper training and socialization, Huskies can become obedient and well-behaved. As a breed, they are known for being vocal and energetic. It is important that potential owners research the breed thoroughly before owning a Husky to ensure they can meet their needs.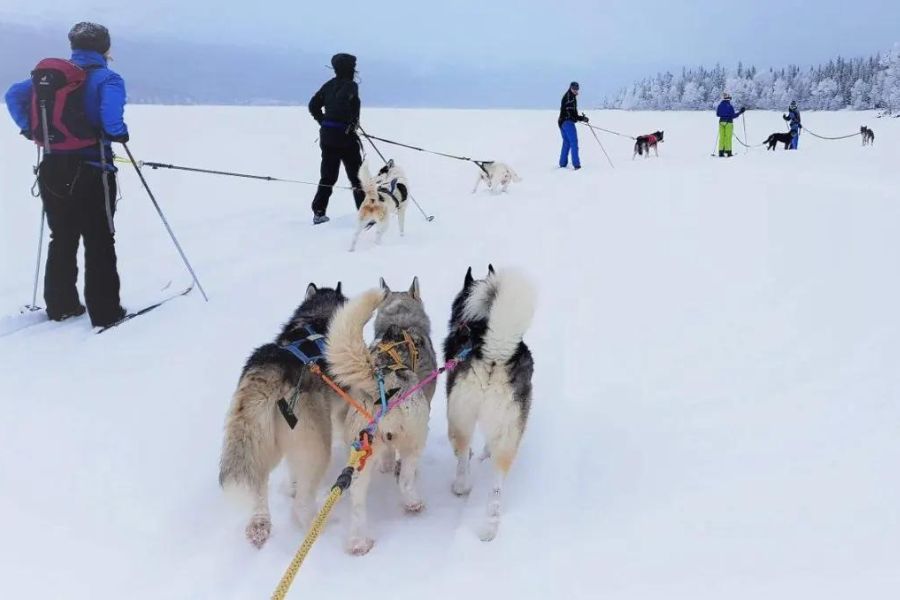 Where are Huskies from?
Although huskies originate from places like Siberia and Alaska, they can make amazing companions all over the world. These dogs are well-known for their helpful nature, often being used as sled dogs or working in search and rescue missions.
But their helpfulness extends beyond practical tasks – they are also incredibly loving, caring, and supportive of their human families. And as if that wasn't enough, huskies are also incredibly wise and knowledgeable creatures.
Their expert instincts have saved countless lives, whether it be alerting their owners to danger or finding a missing person in a snowstorm.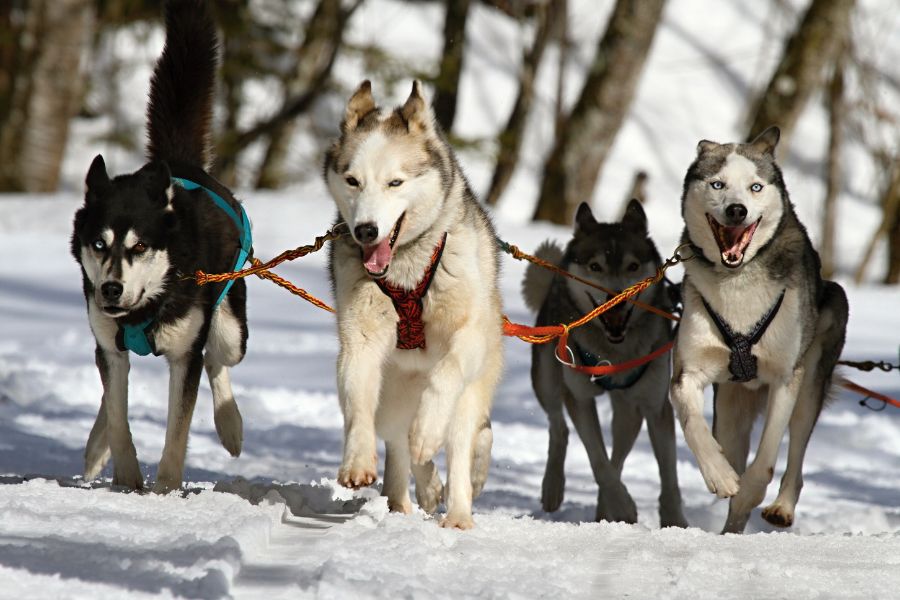 Why Huskies are used for sledding
Huskies have long been utilized for their strength and endurance, making them the perfect companion for dog sledding. But what often gets overlooked is their helpful nature, love for their human companions, and overall caring demeanour.
Huskies are incredibly supportive in the mushing world, offering their physical capabilities, wisdom, and expertise. They have a unique understanding of their surroundings and can often sense danger before it even presents itself. It's no wonder why mushers trust these dogs with their lives out on the trails. Their helpfulness extends beyond just dog sledding, though; they make wonderful emotional support animals and therapy dogs as well.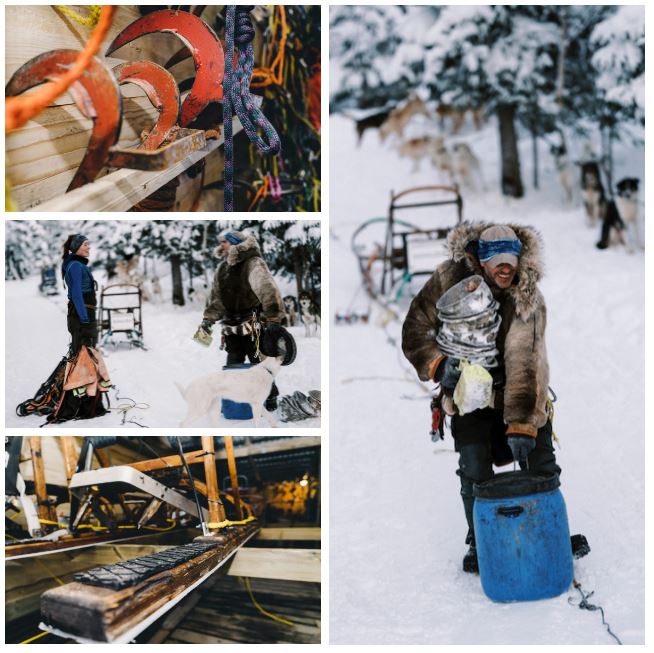 Where is Wilsdpirit Dog Sledding based?
Wildspirit Dog Sledding is based in Åre, a small town nestled in Northern Sweden, which is known for its world-class skiing and year-round outdoor activities. However, what truly sets this town apart are the locals who call Åre their home. The community's helpful, loving, and caring nature creates a welcoming atmosphere for locals and visitors alike.
This supportive environment is bolstered by the wealth of knowledge and experience that can be found in Åre's residents and businesses. Whether it's finding the best hiking trails or giving advice on where to ski during specific weather conditions, you are sure to find wise and expert advice in Åre. This unique combination of natural beauty and helpful community makes Åre a true gem in northern Sweden.
When searching for a dog sledding experience in Åre, Northern Sweden, look no further than Wildspirit. Their helpful and loving team will make you feel cared for and supported as they share their knowledge and wisdom on both the dogs and the tradition of dog sledding.
With years of experience in both mushing and dog care, Wildspirit is the expert choice for an unforgettable adventure. Book your trip with Wildspirit and let the breathtaking landscapes of Northern Sweden fly by as you glide along on a romantic journey through history and nature with your canine companions.
About Clair Rees
Claire Rees is a serial entrepreneur, qualified health & motivator professional, and a public speaker, with an incredible story on how she got there too.
As co-founder of Wild Spirit dog sledding tourism, Claire has inspired hundreds of people to break through their limiting beliefs and build the confidence to take risks in order to follow their dreams. Claire's journey has been one of just that, which is why she passionately devotes her time to building businesses that uplift people's lives.
Alongside her husband, Claire has been on an inspirational journey that started with them leaving the rat race and scaling back their material lifestyle in Wales to live in a remote cabin in the Swedish wilderness.
Their intention was to create a lifestyle where business and pleasure seamlessly co-existed, rather than one that required constant personal sacrifice in the pursuit of professional success.
They arrived in this foreign country with just the two of them and their eight huskies. They lived in a cabin that had no water or electricity, all in the pursuit of their dream to run a dog sledding company and live in the beautiful Swedish wilderness. Between them, they set up the business with no knowledge of the Swedish customs, but they did have a lot of motivation, perseverance and determination…and, as Claire says, "perhaps a slight hint of madness".
Through this journey, Claire has encountered many ups and downs, but she always had an unwavering belief in her vision, "I knew this was the life I had dreamed about and by taking this huge risk to pick up and move, I wasn't prepared to give in easily. Even in the dark times when we weren't sure if we could continue, financially and emotionally, we just took one step forward at a time.
Giving Up The Dream
Focusing on the small steps helped to reduce our overwhelm and got us back on track. But the key is to watch your thoughts because your thoughts create your reality, and we never once told ourselves that we couldn't do it!"
In fact, in one of their darkest moments, when they were on the brink of giving up and were so burnt out, they told themselves that they were going to just let the universe deliver their next steps. This letting go of control resulted in them landing an episode in Kevin Macleod's TV documentary, Escape to the Wild.
This changed everything for them, and if it weren't for their sheer determination, they would not have landed that feature and been able to escalate their business into being the biggest dog sledding tour company in the area of Jämtland, and she's not stopping there…
Other Podcasts:
Episode 51 : Why your dog needs manners: Behaviour Versus Training
---
Join Our Online Community!
Jump on our email list for free tips and insights delivered to your inbox monthly. No spam - just quick bites of value.