Skorts have become a popular piece of clothing for women who participate in various outdoor activities such as tennis, golf, and hiking for quite a while, and there's no reason us ladies training dogs cant enjoy them too. In this blog, we look at why every gundog owner needs a skort this spring plus we show you two skorts we have fallen in love with to inspire you!
What Is A Skort?
A skort is a combination of shorts and a skirt, providing the comfort and coverage of shorts with the feminine flair of a skirt.  For tennis players, skorts are a great option as they provide both comfort and style while playing. They also offer the freedom of movement needed for a fast-paced sport like tennis. Many skorts come with built-in shorts, providing added coverage and security during intense matches, but also for those of us bending down to pick up a ball.
Similarly, skorts have also become a staple in the golfing world. Women's golf skorts are designed with functionality in mind, with pockets for storing tees and balls. They also provide a stylish look for golfers who want to look their best on the course. What gundog owner doesn't love a pocket for a phone, and the chance to still look good?
Hikers also appreciate the versatility of skorts. They offer the coverage and protection of shorts while still providing a fashionable look. Skorts made for hiking usually come with moisture-wicking fabric which we ladies standing out in the sun can truly appreciate.
Skorts can be a great choice for gundog training. As with any outdoor activity, having the right clothing is essential for staying comfortable and focused on the task at hand. Skorts provide the coverage and flexibility needed to move around and train your dog effectively. They also offer a stylish look for those who want to look good while doing it.
Find Number 1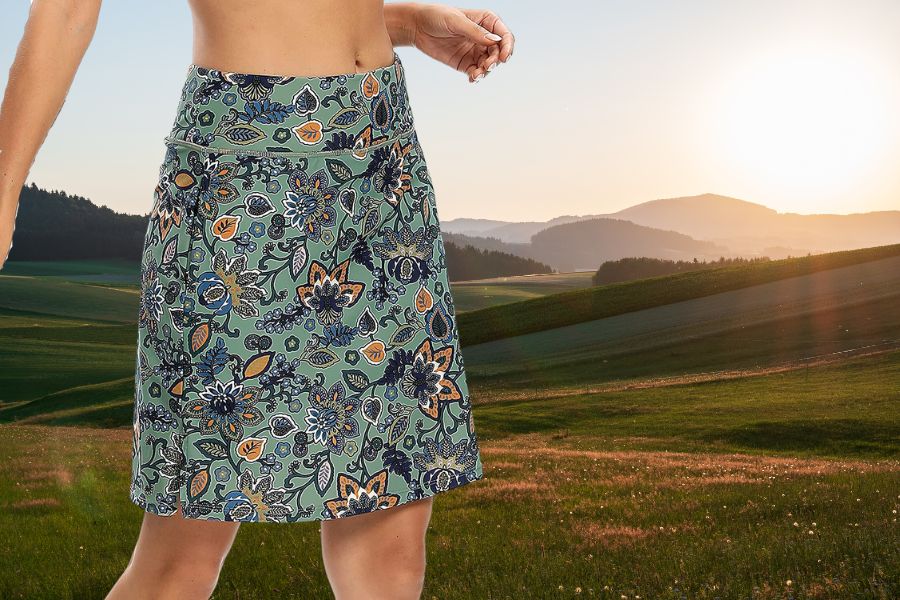 Skort number one is the M MOTEEPI Modest Knee Length Skorts Skirt.  A  perfect combination of comfort and functionality. It is made from a lightweight, soft, and quick-drying fabric that ensures maximum comfort during any activity. The 4-way stretch fabric allows for easy movement, making it perfect for sports like dog training. The skirt has a knee-length design that provides modesty and more coverage and features side slits that allow for even more freedom of movement.
The high waist comes with inner drawstrings for a comfortable and customized fit, and it also has built-in 7″ mesh-lined shorts that offer great support. This skort comes with 5 pockets, including 2 pockets on the outside of the skirt for easy access, 2 pockets on the inside of the spandex shorts (cell phone pocket and ball pocket), and 1 hidden pocket at the waist. Skort number one is machine washable and easy to care for, making it perfect for everyday wear.
Whether you're walking, training, lounging around the house, or engaging in any other activities, this knee-length skort is a perfect choice. Available in a range of colours and patterns including navy and camouflage.
Find It On Amazon : https://amzn.to/43E44uZ
Find Number 2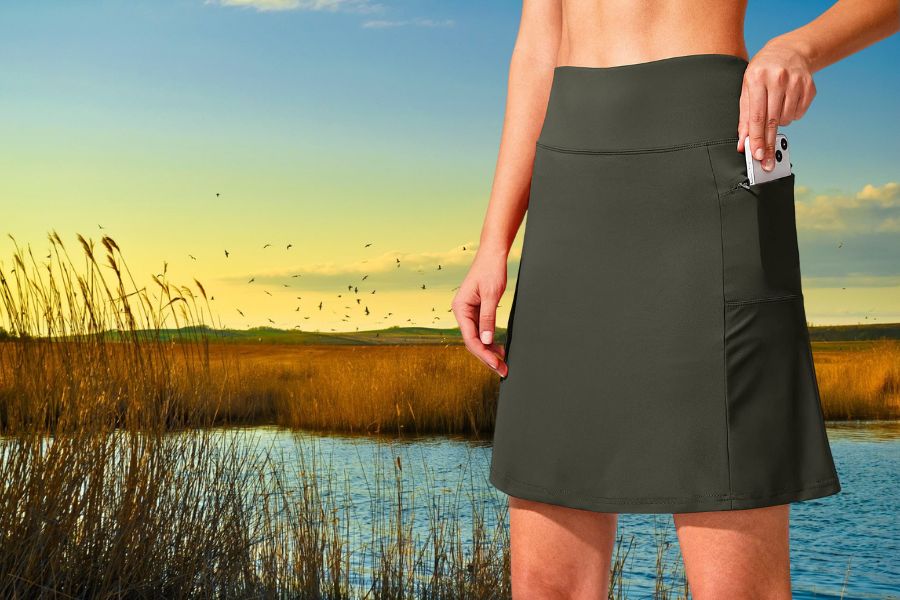 Skort number two, or the SANTINY 19″ Golf Skorts Skirts for Women, is an excellent choice for women who participate in gundog training. It features a knee-length design and a wide waistband with an elastic string that provides great tummy control and an adjustable fit. The length is perfect for training activities that require you to move around and bend over frequently.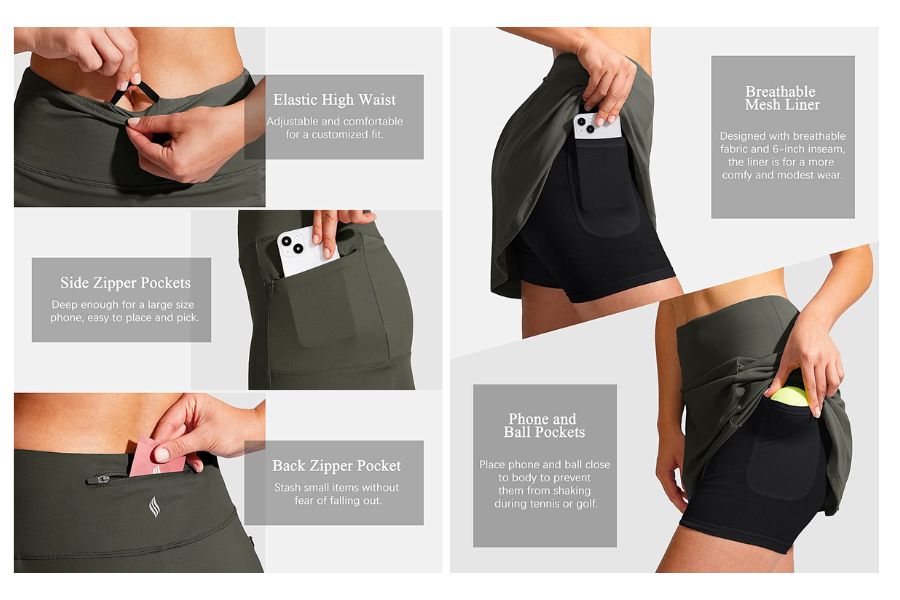 This skort comes with 2 ball pockets on the inner shorts, which can also be used to store treats for your dog. Additionally, there are 2 side pockets on the outside and a back pocket at the waist, all with zippers, to securely store your phone, whistle, or other dog training essentials. The mesh built-in shorts are breathable and lightweight, with a 6″ inseam that ensures modesty and doesn't ride up when crouching down.
The SANTINY 19″ Golf Skorts Skirts for Women are made of 75% polyamide and 25% elastane, with a zipper fastening and a high waist that provides coverage and comfort during training. It also offers UPF50+ protection against the sun's harmful rays. The skort is stylish and stretchy enough for dog training and other outdoor activities, making it a versatile choice for those who want to look and feel their best while working with their gundogs. Available in 20 different colours and patterns including green camo, olive green, grey camo, navy and grey sage
Find it on Amazon here: https://amzn.to/3KL3PWl
Final Thoughts…
Overall, skorts are a versatile and fashionable option for women who love to participate in outdoor activities like dog training. Skorts offer a comfortable and stylish alternative to traditional shorts or skirts that you can enjoy this summer whilst out with your gundog. Make sure to add FOLLOW our Amazon Account so that you don't miss any other great stuff that we add.
You May Also Want To Read: Look Foxy with Our Foxy Pheasant Tweed!
---
Join Our Online Community!
Jump on our email list for free tips and insights delivered to your inbox monthly. No spam - just quick bites of value.