Crufts is the biggest dog show in the world and an event that many gundog owners aspire to participate in. However, competing at Crufts as a gundog handler requires dedication, hard work, and a deep understanding of the sport of gundog handling and showing. In this blog post, we will take an inside look at what it takes to show your gundog at Crufts with the help of Abbie Reid, an LWDG Feature Expert who shows her gundogs every year at the BASC Showring at Crufts.
Podcast Edition: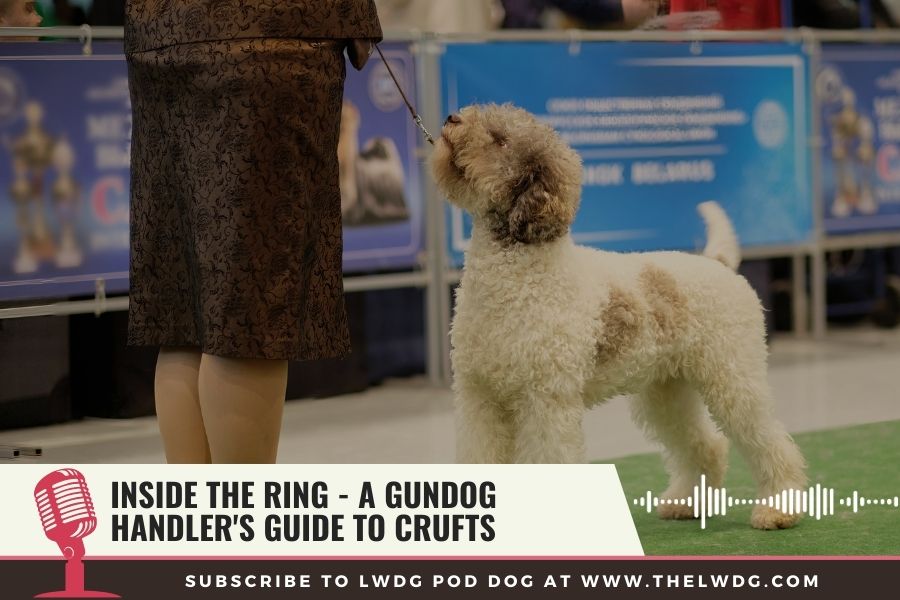 Getting Started with Gundog Showing
Gundog showing is a competitive sport that requires owners to exhibit their dogs based on breed and class standards and getting started with gundog showing requires a lot of research, as owners need to familiarise themselves with the breed standards, rules, and regulations of the sport. They also need to connect with other handlers and breeders to learn about the best practices for training, conditioning, and grooming their gundogs.
Abbie suggests that new gundog owners attend local dog show craft rings and observe other handlers and their dogs. This can help them gain an understanding of the sport and what judges are looking for in a gundog. She also advises owners to focus on building a solid relationship with their dogs, as this is essential for success in the ring.
Preparing for Crufts
Preparing a gundog for Crufts is a long and involved process that requires careful planning and attention to detail. According to Abbie, owners need to start preparing their gundogs at least six months before the show getting them used to the situations they may face in the ring.
The first step is to ensure that the gundog is in top physical condition. This involves regular exercise and a training plan to prepare. Owners also need to continue to work on their gundog's obedience and socialisation skills to ensure that they are comfortable and confident in the show ring.
The next step is to focus on grooming and presentation. This involves baths, nail trimming, and coat maintenance. Abbie suggests that owners work with professional groomers to get their gundogs looking their best. She also emphasises the importance of having a consistent routine and practising in a show-like environment to prepare for the high-pressure environment of Crufts.
Inside the Ring at Crufts
The BASC Showring at Crufts is a highly competitive environment that can be overwhelming for both gundogs and their owners. According to Abbie, it's essential to stay calm and focused in the ring and to follow the judge's instructions carefully.
Abbie also emphasises the importance of having a strong bond with your gundog and being attuned to their needs in the ring. She suggests that owners should be prepared to adjust their handling style based on their dog's behaviour and response to the judge.
Finally, Abbie shares some of her favourite moments from past Crufts shows, including the camaraderie and support among fellow handlers and the thrill of seeing her gundogs perform at their best.
Tips and Advice for Gundog Handlers
To succeed at Crufts or any other show, Abbie offers some final tips and advice for gundog handlers. She suggests that handlers should enjoy the process and not just focus on the outcome, as gundog showing is a rewarding experience in itself. She also emphasises the value of having a support network of fellow handlers and enthusiasts, as they can provide valuable advice, feedback, and encouragement.
Final Thoughts…
Showing your gundog at Crufts is a challenging and rewarding experience that requires dedication, and hard work, Thanks to Abbie Reid for joining us on the podcast and sharing her expertise on gundog showing at Crufts. We hope this episode has been informative and inspiring for our listeners who are interested in this exciting sport. Join us next time for another inside look at the world of gundogs.
Useful Links:
Crufts : https://crufts.org.uk/
Basc Young Handler https://basc.org.uk/the-power-of-friendship/
---
Join Our Online Community!
Jump on our email list for free tips and insights delivered to your inbox monthly. No spam - just quick bites of value.