Imagine our delight when LWDG member Min Flemington shared this awesome recipe with the group!
This is a great way to use leftover sloes after making and decanting your sloe gin. It can also be used with damson gin, damson brandy, cherry brandy or any berry containing liqueur. This versatile recipe also allows you to experiment with different types of chocolate, giving you various truffles.
75ml double cream
25g unsalted butter
225g 54% cooking chocolate
2 tbsp sloe gin
1 tsp glycerine (not essential)
75g stoned sloes
To finish –
150g very good high-quality cooking chocolate
chopped roast hazelnuts/cocoa powder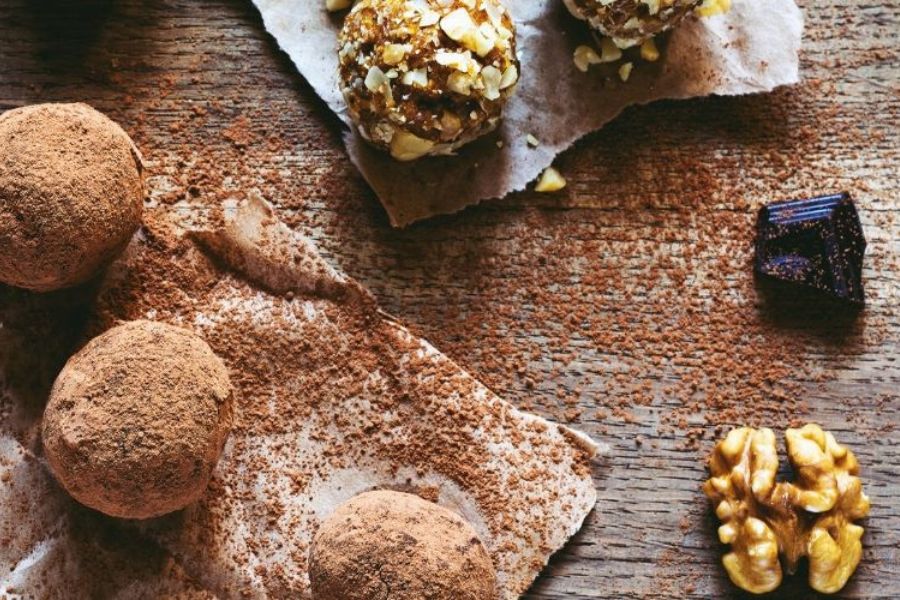 Line a large flat tin with baking parchment.
Melt butter and cream slowly in a pan, bring to boil, stirring constantly. Boil very gently for 1 min and remove from heat.
Break up the chocolate and add to the cream mixture. (Don't do this immediately while it's still close to boiling, or it won't set later – wait a minute or so) Stir till melted, then mix in sloes and gin, and the glycerine for a smoother mix.
Pour mix into the tin (or use truffle moulds) and allow to chill 2 hours in the fridge.
Break off small amounts of the mixture and roll them into balls, or if you used a truffle mould, pop the truffles out.
Chill for another 30 mins.
To finish the truffles, melt the 150g of high-quality cooking chocolate slowly in a bowl over a pan of water. Dip the balls in melted chocolate on a fork or spoon and let the excess chocolate run off. Add nuts to finish.
Place truffles in small paper / petit four cases. Put them back in the fridge.
It makes about 30 truffles, so if you wish, you can double quantities and make a mix of milk and dark chocolate. They can last approx two weeks in the fridge if they don't all get eaten at the shoot!
The chocolate finish above can melt quickly in hand, so if you wish to make truffles that will not melt in hand so quickly, you can dip them in tempered chocolate.
What's your favourite shoot day take-along recipe? Add yours to the comments below!
---
Join Our Online Community!
Jump on our email list for free tips and insights delivered to your inbox monthly. No spam - just quick bites of value.