July saw our first-ever LWDG Gundog Holiday. I may be wrong but I think this was probably one of, if not the first female-only gundog holiday ever to be run, and it did not disappoint.
On the 23rd of July 2022, twelve ladies and their dogs gathered nervously at Broadoak Training Facility to start three days under the watchful eyes of LWDG Group Experts Claire Denyer and Emma Stevens, along with their fabulous team of helpers.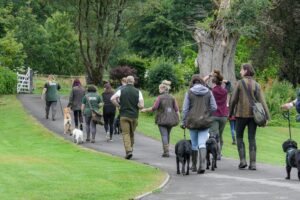 New Faces
Nearly every lady who attended had never met each other before, yet within minutes were chatting to one another, smiling and doing what the LWDG does best, supporting one another. I was there not only as the Founder of the LWDG but also as a nervous dog handler with my equally as scared spaniel Ella. I'd never been on a gundog holiday, and Ella had only twice before been to a group training session so we were both feeling the pressure I'm sure.
During the Morning briefing, we all introduced ourselves and talked about how nervous we felt. As each lady mentioned her fears, it seemed to help each and every one of us feel a little calmer.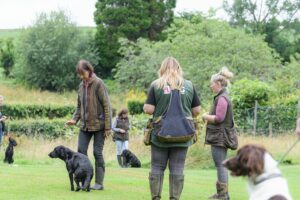 New Training Methods
One of the things I love most about the LWDG live coaching sessions on Zoom is how I learn different ways to approach different challenges. As we started the training I soon realised the gundog holiday would give me the same enjoyment. Not only did Claire and Emma approach training from their own methodologies, but I also watched as different dogs' sticking points were ironed out.
By the end of the first day, I got to watch with pride as dogs that had never retrieved before, retrieved to hand, and dogs who had never hunted worked over covered ground.
What's more, all the fear I had felt, and the other ladies had gone too. Every one of us was calmer in our approach, showing more confidence, worrying less when things went wrong and really getting excited when it was going right. And the dogs were loving it.
Day 2 of the Gundog Holiday
As we all got out of our vehicles Sunday morning we met each other as lifelong friends. Everyone was being included, there were smiles everywhere to be seen and chatter about how exhausted both our dogs and ourselves had been the night before. All the training had certainly helped us sleep, and now we were ready for day 2!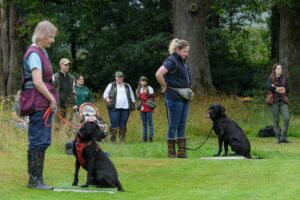 Emma and Claire swung into action with just as much energy as the day before. We ran quickly through a refresher on what we had learnt the previous day, and moved on to a morning of teaching stop in the most fun way ever!
I've always been careful how much I used my stop whistle, but this morning it was taught in such a refreshing way that I now practice stopping and my dog absolutely loves every moment of it! It's sharp, fast and fun and if you want to watch the method you can watch Emma's training video in the 'Ten Minute Training' Section of the website.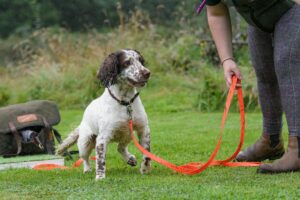 Later we broke for lunch and as our dogs snoozed in their crates, we sat together enjoying another social session. Throughout the gundog holiday, there were lots of well-timed breaks added in to allow both us and our dogs to digest the training we had just done. I think there's great value in allowing a dog to absorb what it's learning.
As we started the afternoon, the small showers that had kept threatening our fun disappeared and left us with yet another glorious afternoon in the Lake District.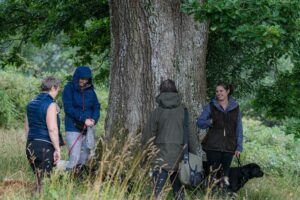 Sunday afternoon was full of water though as we worked on training a dog to be steady around water. It was fabulous to be able to test our dog's self-control as others entered after dummies. Some of us had very calm dogs, and some of us realised we had lots more to do to get our excited friends to calm down, but it was, without doubt, an incredibly valuable learning moment.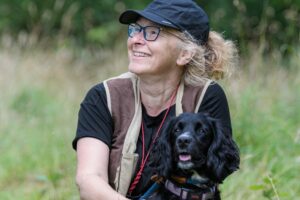 We left Sunday Afternoon prouder of our dogs than I think any one of us could have thought possible. They really were a credit to us all.
Monday – Assessment Day
The third day was one where the nerves returned. Into the holiday was built a voluntary option to be assessed by Claire Denyer on the LWDG Working Dog Certificate – Foundation Level. What thrilled me was on Saturday about half the group thought they would like to have a go, but on Monday everyone decided they would give it a shot. Our Working Dog Certificates are robust, the foundation level asks for the very bare minimum that would be needed to even think about taking your dog onto an estate, and its 8 assessment criteria can be hard.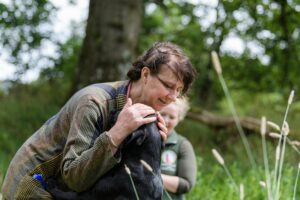 After the assessments, we said goodbye to one another and headed home to await the results.
Driving home from the Gundog Holiday
As I drove the 6 hours home to South Wales I had plenty of time to reflect on what I had experienced both as a participant and as the LWDG business owner.
I am incredibly honoured to have been part of this event, not just from what Ella and I learnt, but for also witnessing first-hand the special friendships LWDG Events form. There's no one on the holiday that I would now not go for dinner with and I think that's a great indicator of how well we all connected.
I'm also very humbled to have watched brilliant trainers help frightened owners to have more faith in themselves and in their dogs and to see the rewards that trust brings in such a short time.
I am thankful to everyone involved for the fact they brought to the table a willingness to face their fear and to do it anyway, and their strength helped others to feel braver and vice versa. The positive energy all weekend was an upward spiral of emotion and that gave us all a weekend experience we were incredibly happy with.
I realised my dog is a cheeky monkey and whilst without being nervous on Day 1, by day 2 was milking it for all it was worth providing plenty of amusement for everyone. I could have brought my best dog and wowed everyone with his training ( btw I didn't train him) but I chose to bring the worst as I knew she would get the most out of it and she certainly did. The fact I felt safe enough to do this speaks volumes about the trainers, helpers and participants who never once judged and instead constantly helped me.
Lastly to Emma and Clair I can only say a huge thank you, your professionalism was wonderful and your support was just as great. We all totally appreciated it.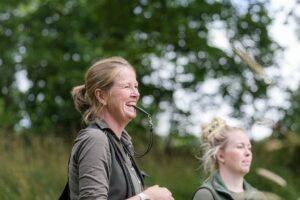 Certificate Results
Congratulations to:
LWDG Working Dog Foundation Level Certificate
Jo Perrott with Ella
Amanda Tolan with Effie
Carol Ann Parish with Loki
Laura Crewe with Betty
Amanda Stephens with Ice
Stella Adamson with Bandit
Ella Reade with Aoife
Sarah Drake with Juno
Sue Lister with Angus
---
Join Our Online Community!
Jump on our email list for free tips and insights delivered to your inbox monthly. No spam - just quick bites of value.