Welcome back to our Ladies Working Dog Group's blog! We're all about championing, enlightening, and cheering on all you wonderful ladies who work with your dogs. Our goal? To help you build a relationship with your dog that's rooted in mutual respect, trust, and a deep understanding of each other. Today, we're going to chat about something super important, but often overlooked in the world of dog training – consistency in methodology. You might be wondering, "What's that?" or "Why does it matter?" Well, that's where our amazing Group Experts and Featured Experts come in! These are carefully chosen individuals whose experience, values, and approach to training are totally in sync with our philosophy.
Our Group Experts believe wholeheartedly in the magic of positive reinforcement and gentle corrections – no harsh methods here, thank you very much! This approach is consistent across our entire team, which means your gundog won't get confused by different training methods. Instead, you'll both have a clear and easy-to-follow path towards a beautifully trained gundog. So, let's dive in and explore why this matters, and how our Group Experts are the perfect companions for your dog training journey!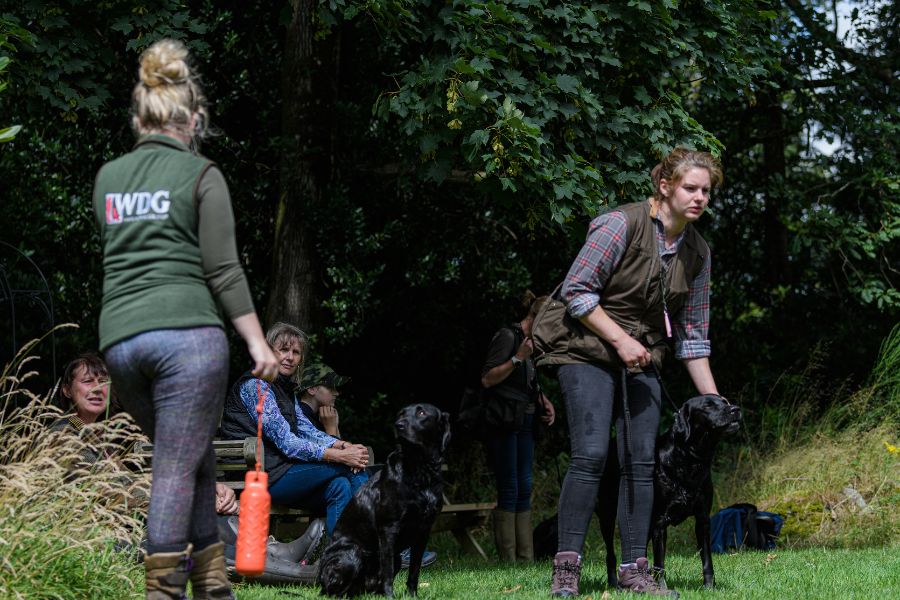 The Importance of Consistency in Dog Training
Imagine this: you're learning a new dance. One teacher tells you to start with your left foot, the next insists it's the right foot, and another one doesn't seem to care which foot you start with. Confusing, right? The same goes for our four-legged friends. Consistency in training methodology is like a language that helps your dogs understand what we want from them.
When different trainers use different methods, it can get really confusing – not just for your dogs, but for you too! It's like being in a foreign country where everyone speaks a different language. You can't understand them, they can't understand you, and it's all a bit stressful. That's how your dog feels when faced with inconsistent training methods. It doesn't just hinder their learning, it can also lead to unnecessary stress.
We've seen this first-hand in our community. Take Molly, a gorgeous labrador who was struggling to master basic commands. Her owner, Sarah, had engaged different trainers who all used various methods. It was a hodgepodge of instructions and Molly was understandably confused. But once Sarah connected with us and one of our Group Experts and stuck to a consistent training plan, Molly's progress was remarkable! The secret? A unified training language that Molly could understand, and Sarah could easily implement.
So you see, consistency isn't just about making training easier – it's about building a bridge of understanding between you and your dog.
Who are Our Group Experts?
Ever wondered who these amazing people are that we keep calling our Group Experts? Well, they're not just any trainers – they're like the superstar coaches of the dog training world. They're the guiding lights that lead you and your canine companion towards a beautifully balanced and respectful relationship.
Our Group Experts come from various backgrounds, but they all have a couple of things in common. They've all got heaps of experience under their belts, and they hold credentials that will make your tail wag! From certified dog behaviourists to experienced working dog handlers, our Experts bring their unique skills and knowledge to the table. But more importantly, they've got a deep love and understanding of dogs – and it shows in every training session they lead.
These incredible individuals were not chosen by chance. They are handpicked because they believe in the same things we do – a training approach centred around positivity, respect, and understanding. Our Group Experts live and breathe our ethos, ensuring that your dog learns in a safe, loving, and consistent environment. They're the embodiment of the Ladies Working Dog Group's values, and they're here to support you every step of the way on your dog training journey.
Why Our Group Experts Are Handpicked
When it comes to selecting our Group Experts, I didn't just draw names out of a hat. It's been a thoughtful and meticulous process that involved vetting our trainers for their skills, experience, and alignment with our philosophy. We combed through their professional backgrounds, observed their training methods, and ensure they shared our love for positive, respectful training.
We believe in consistency – remember our dance lesson analogy? So, it's super important for us to have trainers who are on the same page when it comes to training methodology. When all our trainers use similar methods, it creates a unified language that makes it easier for you and your dog to follow along. It eliminates the confusion and helps your dog understand what's expected of them. Plus, it makes your journey as a dog owner a whole lot smoother!
Our Experts
Family Dog Services. I have been training dogs professionally since 2016 , including pet dogs and working gundogs and have enjoyed teaching my gundogs since 2012. I am a behavioural trainer who works with every dog and owner individually, taking a holistic approach to training. I am proud to have trained alongside and with some incredible dog trainers and behaviourists, including dog behaviourist Robert Alleyne (attending his 12-week instructor's course in 2016). I have continued to participate in various courses, workshops and seminars, including pet gundog training, canine first aid, dog aggression awareness workshops, dog-on-dog aggression courses, dog-on-human aggression courses, Zoopharmacognosy, and Tellington Ttouch, to name a few, and studied dog training and behaviour with the CIDBT. I believe in educating owners on how appropriate training can help prevent behavioural problems with pet dogs, and that gundog training doesn't require harsh handling. In addition, I have a passion for and specialise in working with reluctant retrievers. I run puppy classes, 121s, gundog classes, workshops, training days, walked-up training days and KC working gundog certificate days for my clients. I am proud to be a group expert for the LWDG and a Canine Instructor Academy Trainer. I am the author of the puppy book 'The Life of Rose' raising puppies the family dog services way.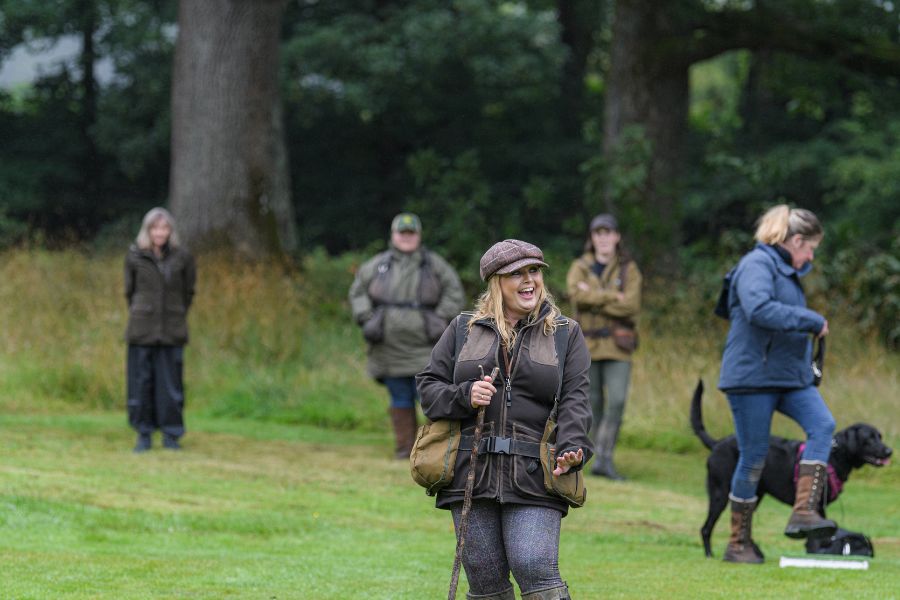 Upon completion of her degree in Veterinary Medicine & Science, Emma worked in a veterinary practice. After two years, she came out of Veterinary work and set up Cunningshot Dog Training. With a unique set of skills, canine psychology, health, nutrition and an advanced set of practical dog training skills, Emma has witnessed and worked with a huge range of breeds across various disciplines.
Emma has now been training Gundogs for over seven years in both competitive, working and pet gundog roles. She has competed her own spaniel and is now bringing on her younger labs for competition. She breeds her own lines of springers and labs and can be seen regularly working with her team of labs and spaniels throughout the shooting season alongside her husband, who is a gamekeeper.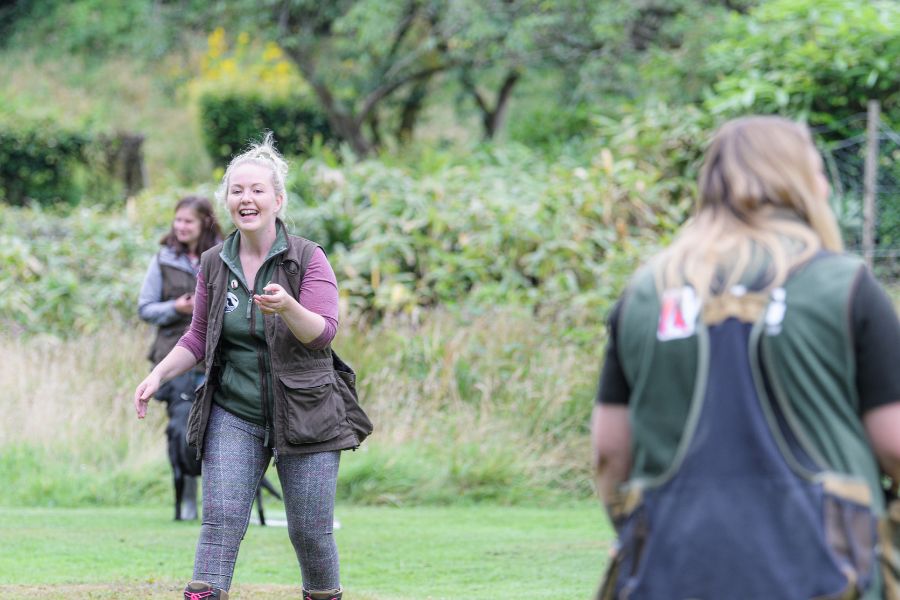 Whistle And Wag Dog Training. As a child growing up, my family was never without a Labrador, and I took the lead in taking them along to training. I studied for a degree in Equine Breeding and stud management and afterwards went on to breeding and training at the Suffolk Punch Trust. I got Jelly. Jelly, now 11, and I also used to train in agility which we very much enjoyed. In 2015 I joined the Essex Police looking for new challenges. During my time in the police, Red, my working cocker spaniel, joined me. Red went straight into training as a gundog completing local classes and training. In 2020 Nuka (Red's little sister) came along, making 3. She has also been trained in gundog work and has recently gained 2nd place in her first working test. In 2021 I completed the Canine Instructor's Academy course alongside Nicci, which spurred us to start Whistle and Wag Dog Training.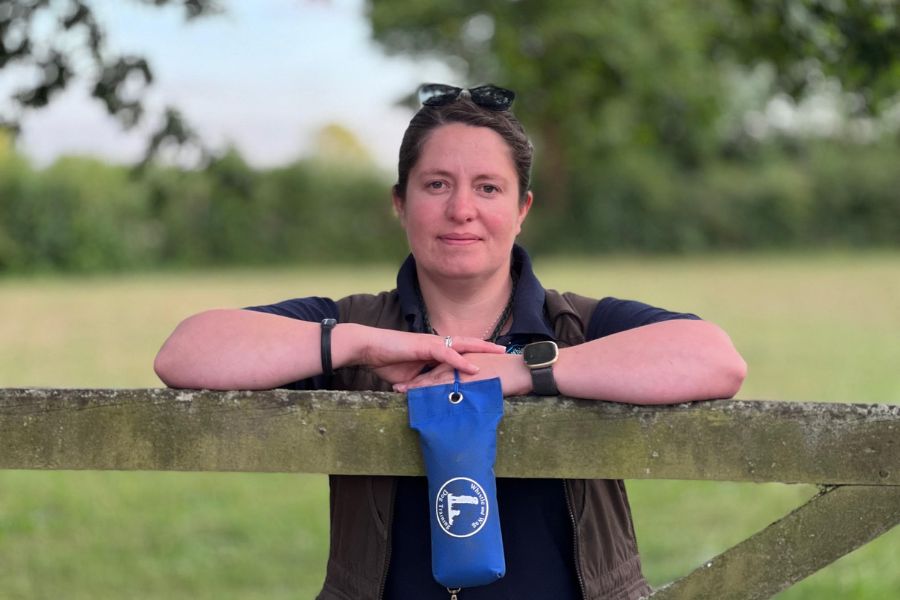 Languedoc Gundogs. Samantha Thorneycroft-Taylor is the owner and lead trainer of Languedoc Gundogs, a Gundog and Obedience Training Center based in Gloucestershire. Sam has been training Gundogs of all ages and from all backgrounds for almost 15 years. Sam's journey into the world of Gundogs started with the purchase of her first springer spaniel, Ruby. She dreamed of training Ruby to be the best gundog there was and soon realised that it really wasn't as easy as she had believed! Ruby was incredibly willful, loved to use her nose (even in situations when it wasn't required), had no desire to retrieve, and (in the early days) would frequently favour exploring the neighbouring fields over spending quality time training with her 'mum'. It was a long and sometimes difficult journey, but they got there, and Ruby went on to work up to 6 days a week for many seasons. This journey made Sam realise that she couldn't have been the only one experiencing these difficulties and that she wanted to help others work through their own training journey, iron out any struggles they may be experiencing, and help them succeed with their own dogs. Sam now has a 'few' more dogs of varying ages, breeds, and backgrounds and loves nothing more than guiding them through their own training journeys and on to partnership working the shooting fields.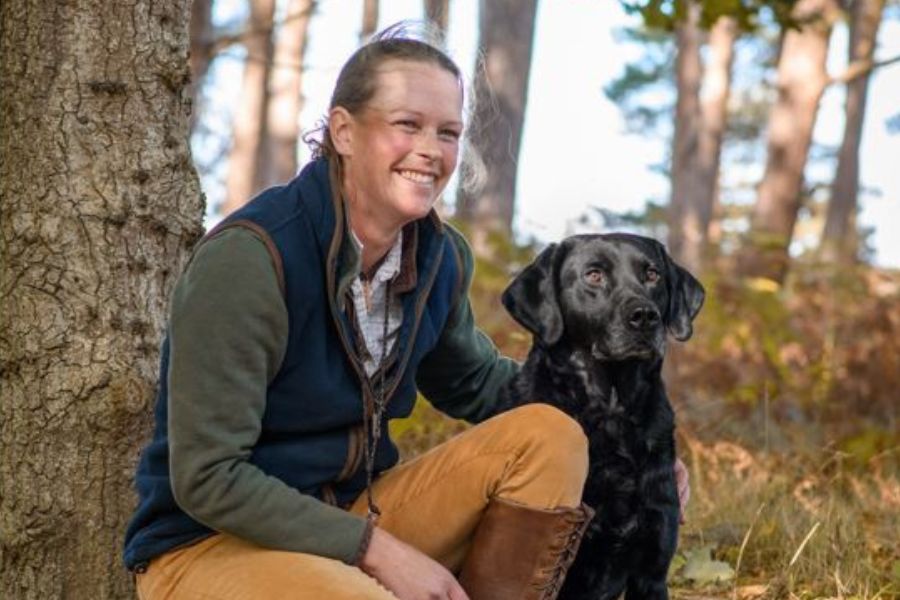 Importance of using positive reinforcement
Positive reinforcement is at the heart of what we do. We want your dogs to love learning, to get excited about training sessions, and most importantly, to build a strong, respectful bond with you. Our Group Experts champion this approach because it creates a happy, confident, and well-behaved dog. Plus, it's much more fun and rewarding for you as an owner to see your dog enjoying the learning process! That's why we're so particular about who becomes a part of our team – we want the best for you both.
The Advantages of Non-harsh Corrections
Now, you might be wondering, "What exactly are non-harsh corrections?" Great question! Non-harsh corrections are a gentle way of educating your dog if they make a mistake during training. Rather than getting frustrated or angry and intimidating or scaring the dog, we believe in assessing the situation, and if necessary changing something to help the dog succeed.
We may redirect the dog, reset the dog, or interrupt unwanted behaviour to help educate the dog and use non-aggressive, and non-abusive corrections where necessary. Just like us, dogs learn best when they feel safe and respected.
Non-harsh corrections offer a loving and understanding approach to guide your dogs towards the right behaviour. It promotes trust rather than intimidation. Learning should be a positive experience for your pup. Plus, it teaches your dog to make the right choices because they want to, not because they're scared of doing something wrong.
Our Group Experts are masters at this! For instance, if a dog jumps up to greet people, instead of scolding or pushing the dog down, it might redirect the dog's energy towards sitting and waiting for a treat. The dog learns that sitting equals yummy rewards while jumping up gets them nowhere. It's a kind, gentle correction that helps your dog learn the appropriate behaviour in a positive, stress-free way.
Using non-harsh corrections, our Group Experts set a tone of understanding and respect in training, helping your dog blossom into a confident, well-mannered gundog.
The Benefits for Dog Owners
Our Group Experts' consistent approach isn't just great for dogs, but it's also a game-changer for you! With their consistent methods, you won't have to scratch your head trying to remember different techniques from different trainers. You'll have a clear path to follow, making the training process less stressful and more enjoyable.
There's nothing more comforting than knowing your dog is in caring hands. With our Group Experts, you can rest easy knowing your dog is being trained using positive, respectful methods. No harsh corrections, no confusion – just a simple, loving, and effective approach to training.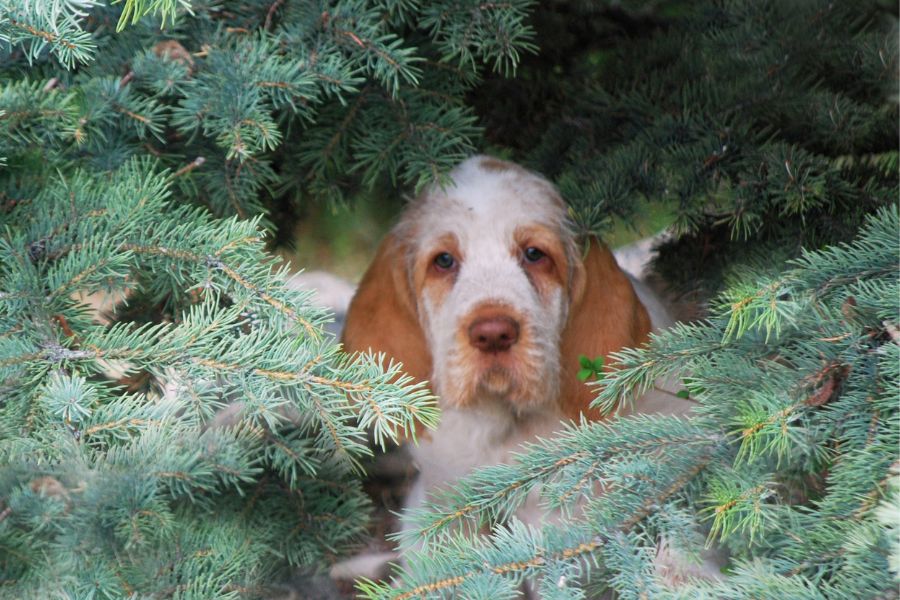 How the Ladies Working Dog Group can improve the relationship between owners and their dogs
Our goal is more than just training dogs. It's about helping you build a stronger bond with your dog. By understanding their language and communicating effectively, you'll see your relationship with your gundog flourish. Our Group Experts are here to guide you on this exciting journey!
Ready to experience the Ladies Working Dog Group difference? We invite you to reach out to our Group Experts. They're ready and excited to help you and your dog partner embark on a beautiful training journey.
Remember, consistency is key, and positive reinforcement is the way to a happy, confident, well-trained dog. So, why wait? Join us and let's make your dog training journey a joyous and rewarding experience!
We're more than just a group – we're a community. A community of wonderful ladies and their delightful dogs. If you haven't joined us yet, what are you waiting for? Come, be a part of our journey. We can't wait to welcome you and your four-legged friend!
So there you have it! Consistency in methodology, positive reinforcement, non-harsh corrections, and a team of amazing Group Experts who are here to guide you every step of the way.
Our Group Experts are more than just trainers – they're your partners on this exciting dog training journey. They understand you, they understand your dogs, and they're here to help both of you succeed.
Here at the Ladies Working Dog Group, we're committed to providing you with the best. The best methods, the best trainers, and the best support. Because we believe that you and your dog deserve nothing less. Here's to successful training and happy, confident dogs!
---
Join Our Online Community!
Jump on our email list for free tips and insights delivered to your inbox monthly. No spam - just quick bites of value.