If you're a lover of dogs, chances are you are a lover of all things country; then, maybe you'll have already visited at least one game fair this year.
Of course, the main one in the UK is The Game Fair, held at Ragley Hall in Warwickshire in July, but also this year is the Welsh Game Fair, which is being held for the first time near Bangor in Gwynedd on September 9th-11th, 2022.
LWDG Founder Jo Perrott and Foxy pheasant Founder Amanda Harris-Lea talk about all things tweed, country and community as they talk about visiting the Game Fair events in the country's calendar from both a business and personal perspective.
Podcast Edition:
Visiting The Game Fair
As a business, both of us have found that game fairs are a great way to raise awareness of our brand and to meet like-minded people who love the countryside as much as we do.
It's also an opportunity to stock up on supplies for our dogs and for Amanda's farm! As countryside lovers, it's also a great event for socialising with our friends too.
What is a Game Fair?
Game fairs are essential events for the countryside and businesses. In addition, the fairs are an excellent way for many countryside businesses to promote their products and services, providing a significant economic boost for the rural economy.
They allow companies like ours to meet some of the community of followers supporting us online. It also allows us to promote our products like our LWDG Baxer Tweed, made by Foxy Pheasant and to explain services like the LWDG Society Membership to many people from different parts of the country.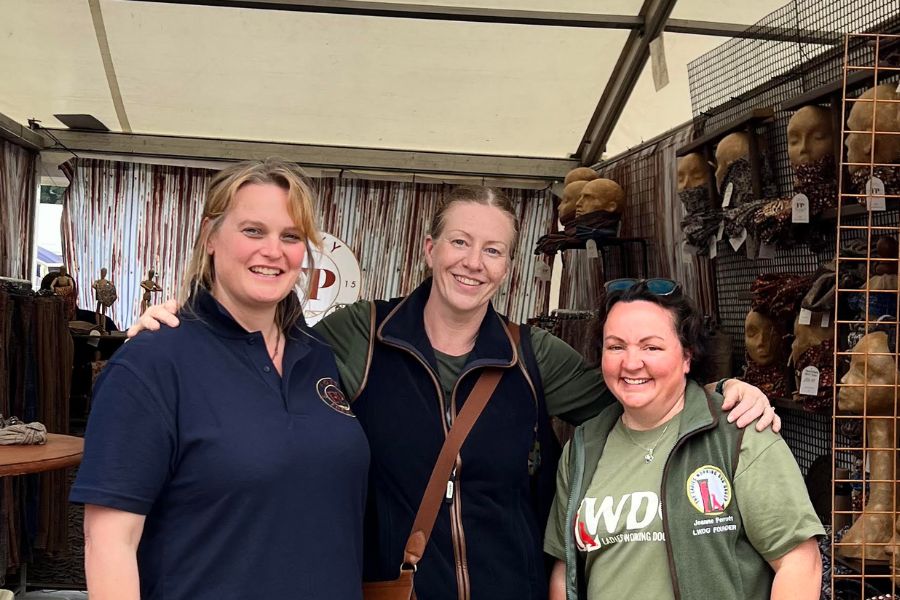 Catching up with our personal and professional communities
Countryside game fairs events play an important role in networking. Attending these events is always great because you never know who you might meet.
For example, you might meet someone who owns a business you have always wanted to work with or someone else who is also listening to the LWDG POD DOG. The variety of communities you come in contact with is enormous!
If you take the time to network at these events, you can make valuable connections that can help you in your career. In addition, networking at these events can also help you to meet new friends and expand your social circle.
Top Tips For Those Attending Game Fairs
Game fairs are an excellent opportunity to try new things, meet new people, and have a lot of fun. Here are a few tips to make the most of your experience:
Plan ahead and research the features that will be available. That way, you can go into the fair with a clear idea of what you want to watch and who you want to visit.
Don't hesitate to step out of your comfort zone and try something new. You may be surprised at how much fun you have.
Make sure to visit the different exhibitors and booths. There's always lots of great stuff to see and do, and you never know what you might find.
Take advantage of any special offers or promotions that are available. Many game fairs offer discounts on tickets or merchandise, so it's worth checking out.
And finally, have fun! That's what game fairs are all about, so enjoy yourself.
The Importance of Supporting Our Rural Communities
Rural communities are the backbone of our world. They provide us with food, fibre, energy, and essential goods and services. They are also the places where we enjoy leisure activities and find a sense of belonging. Yet, rural communities are often overlooked and underserved. This is especially true in developing countries, where poverty is usually more severe in rural areas.
Lack of access to education, health care, and other basic services leaves many rural residents behind. In addition, large companies often exploit rural communities, taking advantage of their lack of resources and knowledge. This leads to environmental degradation, social inequality, and economic decline.
We must do better to support our rural communities all over the world. We must provide them with the resources they need to thrive. Likewise, supporting small rural businesses is hugely important. We must listen to their voices and work together to build a more just and sustainable future. Only then can we hope to achieve true global prosperity.
The Importance of Supporting Our Game Fairs
Our game fairs have been a staple in our community for as long as anyone can remember. They provide a place for us to come together and celebrate our love of the outdoors. They also give us an opportunity to support the local businesses that make our fairs possible. We can show our support for the hard-working men and women who make them happen by visiting our game fairs. We can also enjoy some of the best food, drink, and entertainment our community offers.
Game fairs are also a vital part of our culture and heritage. They provide an opportunity for us to come together, celebrate our love of the countryside, and showcase Britain's best. From traditional field sports to modern clay shooting, game fairs have something for everyone.
By spending our money on local businesses and supporting the work of conservation charities like Game and Wildlife Conservation Trust  (GWCT), we can help to ensure that game fairs are here to stay. So if you're a lover of the great outdoors, make sure you don't miss your local game fair this year. It could be the most important thing you do all year.
Final Thoughts
It's more important than ever to support our local businesses and rural communities. Our game fairs are a vital part of our culture and heritage and provide a place for us to come together and celebrate our love of the outdoors.
Which game fair will you be visiting this year? Let us know in the comments below.
---
Join Our Online Community!
Jump on our email list for free tips and insights delivered to your inbox monthly. No spam - just quick bites of value.