Detection dog trials are a fantastic way to bond with your dog while honing their hunt drive, independence, control, and obedience. Georgie Armstrong, a detection dog trial expert, founded these trials in the UK back in 2019 and quickly went international after receiving numerous inquiries from people in America interested in starting their own trials. To ensure everyone could participate, Georgie developed a scoring system that could be used in all countries, regardless of skill level. Unlike other dog trials that can feel competitive and intimidating, detection dog trials are meant to be inclusive and enjoyable for all levels. The trials take place in all sorts of different venues, from football stadiums to railway stations, to provide your dog with environmental training and complement your training at home. In this week's podcast and blog, we find out all about Detection Dog Trials
Podcast edition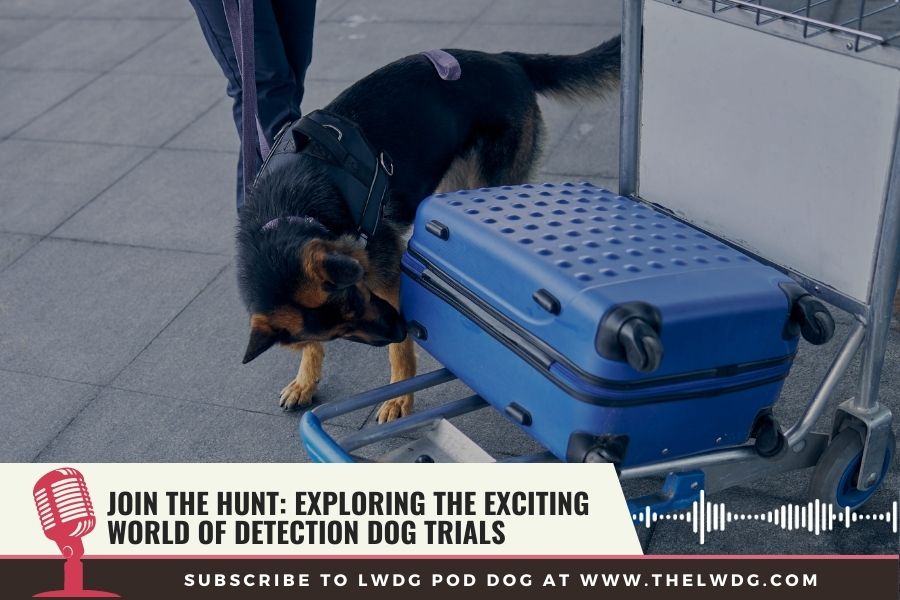 Have you ever heard of detection dog trials? This fun and energetic activity involves working with your furry friend to search for odours in various environments. It's a great way to build your dog's hunt drive and independence, as well as improve their control and obedience. And with Georgie Armstrong's innovative idea, these trials have gone international.
Georgie, a detection dog trial expert, started these trials in the UK back in 2019. But after doing a podcast in America about DDT, she received numerous messages from people in America who were interested in starting their own trials. Thus, Georgie decided to take her idea internationally and developed a scoring system that could be used in all countries, while still keeping the trials simple enough for everyone to enjoy.
Inclusive and Enjoyable for All Levels
Unlike other dog trials that can feel intimidating and competitive, detection dog trials are meant to be inclusive and enjoyable for all levels. Even if your dog has never done detection work before, they can start at the entry-level and work its way up. The trials take place in all sorts of different venues, from football stadiums to railway stations, to complement your training at home and provide your dog with environmental training.
International Scoring System
What's more, the international scoring system makes it easy for everyone to participate and compete in the trials. Whether you're in the UK, America, or Australia, the scoring system remains the same, and results can be viewed on a league table through an app. At the end of the year, there are even championships and awards.
Exciting Way to Bond with Your Dog
Overall, detection dog trials are an exciting way to bond with your dog while building their skills and confidence. Georgie's innovative idea has gone international, and it's not hard to see why. So if you're looking for a new activity to do with your dog, consider giving detection dog trials a try! It's a fun and rewarding experience for both you and your dog, and who knows, you may even end up competing in the championships.
LWDG Working Dog trials Coming Soon!
Georgie Armstrong is not only the founder of Detection Dog Trials, but she is also helping the LWDG develop a new Working Dog Trial system based on a similar scoring system used in DDT. The new trials will include a variety of different exercises and challenges for working dogs. Georgie's expertise in developing fun and inclusive dog trials will be invaluable in ensuring that the new working dog trials are enjoyable for both the dogs and their handlers, while still providing a challenge for those who want to compete at a higher level. With Georgie's guidance, the LWDG hopes to launch the new working dog trials soon, providing yet another exciting activity for our community and their canine companions
Further Listening
The similarities in training search dogs, and gundogs